Black urges young people to turn out in Rutherglen and Hamilton West by-election
Ms Black – who still holds the record for the youngest MP ever elected when she was voted into Westminster at just 20 – wrote an open letter to young people ahead of the October 5 poll.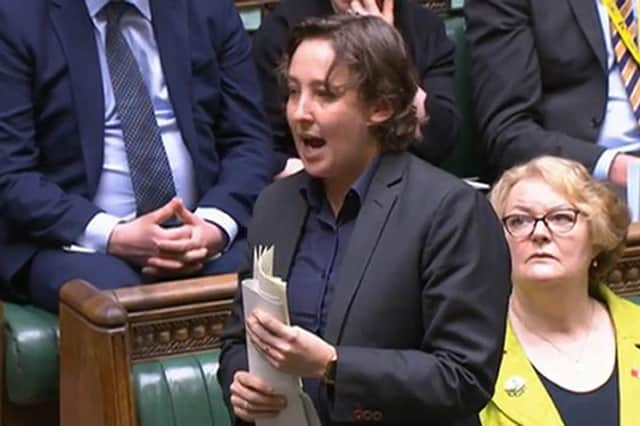 SNP deputy Westminster leader Mhairi Black has urged young people to turn out in the Rutherglen and Hamilton West by-election claiming "Westminster has shafted young people across Scotland".
She claimed the new voter ID law which will be implemented for the first time in Scotland in the South Lanarkshire seat was designed "to stop eligible voters from having their say at elections", disproportionately impacting young people.
The Paisley and Renfrewshire South MP sought to paint Labour – her party's main opponent in the seat – as "pro-Brexit" and anti-young people.
"The pro-Brexit Labour Party is lurching further and further to the right under Sir Keir Starmer – who has abandoned young people by dumping a raft of policies, including the right to free higher education," she said.
"In Scotland, the SNP has achieved so much for young people: scrapping tuition fees, free bus travel for under-22s, rent controls to give more rights to tenants and delivered real action on the climate crisis as one of the first nations to declare a global climate emergency.
"With independence we could do so much more.
"Young people deserve so much more than a narrow choice between red Tories and blue Tories.
"No wonder Westminster is blocking eligible voters from having their say."
She also hit out at the Westminster system, saying: "Bluntly, Westminster has shafted young people across Scotland.
"The cost-of-living crisis has forced prices up and squeezed incomes – turning the goal of home ownership into a pipe dream for many young people who are blocked from getting on the property ladder.
"Then there's Brexit. Brexit, supported by both the Labour Party and the Tories, has ripped away so many opportunities from young people in Scotland.
"The Erasmus scheme once provided young Scots with the opportunity to live, work, study and travel freely throughout Europe.
"These once-in-a-lifetime opportunities were snatched away from young people by Westminster while our colleges, universities and businesses suffered too."
Ms Black's intervention came as Labour's candidate in the seat, Michael Shanks, called for the SNP's Katy Loudon to condemn plans to downgrade neonatal care at University Hospital Wishaw and consolidate care in Glasgow, Edinburgh and Aberdeen.
He said: "The neonatal service at Wishaw University Hospital plays a vital role in the community but faced with the actions of her government, Katy Loudon has indulged in a conspiracy of silence."
A petition in opposition to the plans has garnered more than 12,000 signatures.
Scottish Labour deputy leader Jackie Baillie said: "This is tragic from the SNP.
"The SNP can try to deny it all they want, but the fact is that young people are being failed by both the Tories and the SNP.
"From the cost of living and the housing crisis, to strikes at universities and colleges, the SNP is clearly not on the side of young people.
"We all know that the SNP is fond of using exploitative zero hours contracts but the fact that they still regard them as a 'positive destination' for young people says it all.
"While the SNP do the Tories' dirty work by attacking Labour, our candidate Michael Shanks is standing for real change for young people."