Another victim of cruel sport has found loving home
There has been another happy ending for a dog pulled into the underworld of cruel sports, thanks to the intervention of the Scottish SPCA centre in Bothwell Road.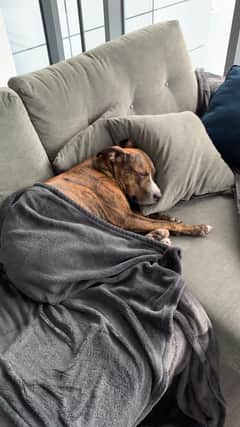 Last month, we told how a Bull Lurcher dog involved in badger baiting had been rescued by staff who called him Hank and were able to find him a loving new home after administering expert rehabilitation.
Now there is news of another dog – Rocco - who has received the same good care and has caring new owners too.
Found by the police as a stray, the poorly animal had various scars and wounds consistent with a bait dog that had been used for dog fighting and 'disposed'.
He couldn't be rehomed for the first three months in their care as his skin was in such bad condition that he required specialist veterinary care, but thankfully that sad chapter is a thing of the past.
We have agreed not to reveal Rocco's new location or the surname of his owner Ryan amidst Scottish SPCA fears that the pet's past could catch up with them.
But Rocco's comeback has seen Ryan marvel at his progress.
He said: "When we got Rocco home he just slept for the first few days as he was exhausted. He settled quickly but it probably took a good year of building a bond before he really let us in and started to trust us. Despite everything, Rocco is calm and has a really gentle nature. The greatest thing we have noticed is his change in confidence. He means the world to us and we're so proud of him."