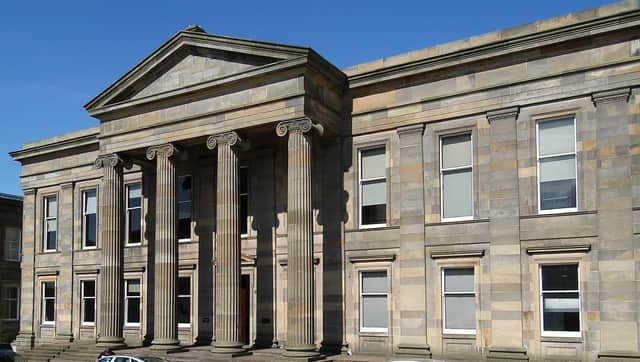 John Shannon, 40, and David Weir, 37, admitted punching and kicking Cameron Redmond to his severe injury in Muirhouse Tower in a vicious attack which has affected the structure of the victim's face.
Hamilton Sheriff Court heard that he suffered two fractures to his lower jaw.
Both eye sockets were smashed and both cheekbones fractured.
Mr Redmond required specialist treatment at Monklands Hospital.
He and underwent surgery to repair his jaw.
Mr Redmond also suffered multiple bruises and severe carpet burns to his back and legs in the onslaught.
The assault happened on September 4, 2019.
Another man had his not guilty plea to the charge accepted.
Allegations that the victim was detained against his will and battered with golf clubs were deleted.
The Crown also dropped a claim that the attackers brandished scissors and threatened to cut off Mr Redmond's toes then robbed him of a bank card.
Police were told that one of his friends had allegedly stolen a jumper and he was accused of involvement in the theft in the run-up to the attack.
Sheriff Thomas Millar had deferred sentence on Shannon, of Keane Path, and Weir, of Muirhouse Tower, both Motherwell, for background reports.
The pair returned to court on Friday when the sheriff said that reports showed they "seem to have moved on with their lives".
Gavin Lawson, defending Weir, pointed out that the attack was more than three years ago and his client has been in no trouble since.
The sheriff put both men under social work supervision for 12 months.
They will also be electronically tagged for six months.
This means they can't leave their homes between 7pm and 7am.
Shannon's curfew will be delayed until 8pm on Tuesdays and Thursdays.
This was after after his lawyer, Matthew McGovern, said he has football training on those nights.