Bellshill man jailed for battering his partner in horrific attack that has caused permanent damage
A bully has been jailed for 27 months after attacking his male partner repeatedly during their stormy relationship.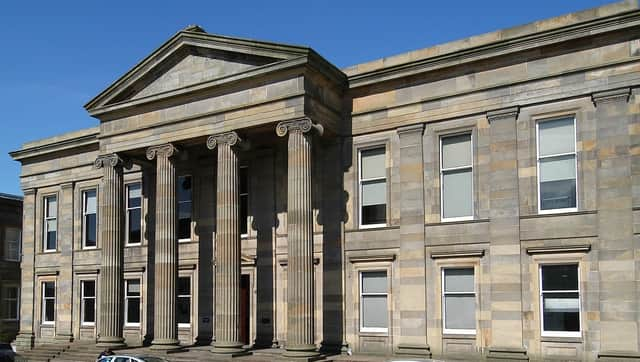 Hamilton Sheriff Court heard that one of Derek Bonini's violent outbursts was captured by a camera in his own home.
Bonini, 42, of McIntosh Quadrant, Bellshill, admitted four assaults on Brian Foster between March 2021 and June that year.
One of those resulted in severe injury, permanent disfigurement and permanent impairment.
Mr Foster has a scar on his head and his hearing has been affected.
Sheriff Colin Dunipace told Bonini the serious nature of the charges meant there was no alternative to a prison sentence.
The sheriff also imposed a non-harassment order, banning Bonini from any contact with his former partner for three years.
Jennifer Cunningham, prosecuting, said the couple got together in December 2020 but the relationship was blighted by rows, with Bonini accusing the other man repeatedly of cheating on him.
All of the assaults happened at Bonini's home and one continued in a nearby shop where Mr Foster had tried to take refuge.
Ms Cunningham said that during the first attack Bonini throttled his partner, leaving him with "significant" bruising around the neck.
The following day they argued again and this time Bonini punched him repeatedly and bit his finger.
On the third occasion he grabbed Mr Foster's finger, opening up an old wound, before chasing him to Premier Store in Lawmuir Road where he grabbed him by the neck.
Despite the violence, the men were back together drinking at Bonini's home in June 2021 when Mr Foster was again accused of being unfaithful and police were called. They had to force entry to the property to rescue Mr Foster.
Footage lasting nearly 20 minutes was played in court.
It showed Bonini shouting abuse and hitting his partner.
Ms Cunningham said: "Mr Foster was taken to hospital where he was found to have a 7.5cm cut running from his ear to his scalp.
"It went right to the bone and required stitches.
"Mr Foster now has trust issues and is apprehensive about going out for fear of bumping into the accused."