Motherwell man walked free after jury accepted claim of self-defence
A man suffered a fractured skull and bleeding on the brain after a row with a work colleague during a drunken night out after tempers flared.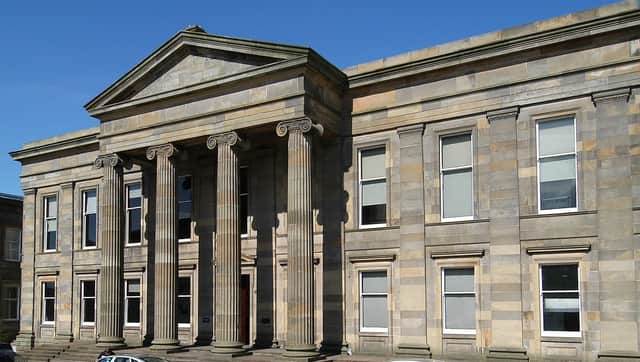 Luke McBride shoved and punched James Kelly, causing him to fall.
Mr Kelly then struck his head on the pavement.
Hamilton Sheriff Court heard that Mr Kelly, now 45, spent five days in hospital but this did not remedy the problem.
For his injuries were so severe he had to attend a brain rehabilitation unit for nine months.
However, McBride, 22, of Kenneth Road, Motherwell, walked free when a jury accepted his claim that he acted in self-defence.
They returned a majority not guilty verdict after a two-day trial.
McBride had been accused of assaulting Mr Kelly to his severe injury, impairment and the danger of his life in Station Road, Blantyre, on November 30, 2021.
The court heard that redhead McBride was upset after being called a "wee ginge".
CCTV footage showed him and Mr Kelly shoving each other after leaving a pub late at night when a dispute arose between the two men.
They had been drinking since 5pm.
It was claimed that McBride stormed out of the pub in an angry scene, threatening to burn it down.
Another work colleague, Craig Rooney, followed him out to try and calm down the escalating situation.
McBride said in evidence he couldn't remember making the threat.
He told a police officer that the incident with Mr Kelly had been "handbags" until the other man fell.
McBride's dad, Danny, told defence agent Laura Kiernan that his son phoned him eight times after midnight because he felt intimidated.
Mr McBride told the court: "He said people were calling him names, generally relating to his hair colour."
The witness said that during one call he spoke to Mr Kelly who warned him his son was going to get "done in".
Mr Kelly denied saying that.
Mr McBride said he drove to Blantyre from his home in Hamilton only to find an ambulance had arrived to convey Mr Kelly to hospital.
The court also heard that a distraught McBride had dialled 999 and carried out CPR on his workmate while waiting for the ambulance.