Police warning to yobs after deliberate blaze at Bishopbriggs home
Residents in Bishopbriggs were lucky to escape serious injury when thugs set bins alight outside the only exit to their home.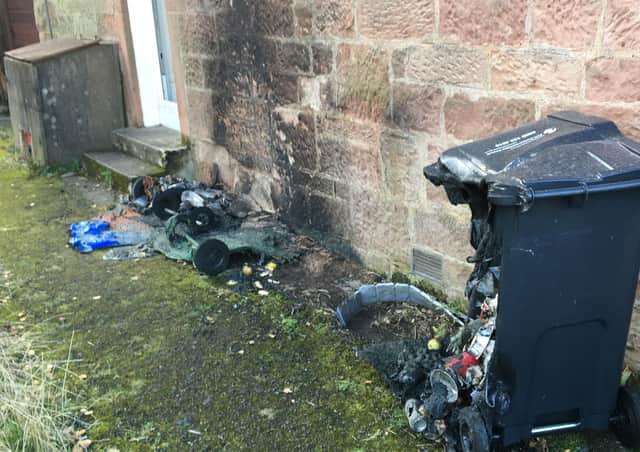 Police at Kirkintilloch are appealing for information on the wilful fireraising which happened at 8pm on Saturday, October 10 at the property at Springfield Square in the town.
Officer said the flames "rose to the roof of the property and were positioned near to the only viable exit for residents."
Local Area Commander, Chief Inspector Lorna Gibson, described the deliberate blaze as "mindless" and added that recent youth disorder throughout the area may be to blame.
She said: "Luckily the fire service were quickly alerted to this mindless act which could have had very serious and tragic consequences.
"My officers are conducting a full investigation to identify those responsible.
"Although we can rule nothing out at this stage, we are seeing a high volume of youth disorder in the Bishopbriggs area.
"This has included damage to property, the setting of fires and fireworks being let off, so we are considering youth involvement as a possibility.
"I am appealing to anyone with any information on who is responsible for this incident to call 101, quoting Incident number 0981 of the 12th of October" or to contact Crimestoppers anonymously."
She added: "We understand that due to the COVID pandemic many places where young people normally go are either closed or offering a much reduced service just now.
"We understand this is difficult but it does not provide an excuse for poor behaviour such as that experienced by the residents of Bishopbriggs, Milngavie and Bearsden over recent weeks."
And she issued this warning: "Youth disorder, anti-social behaviour and threatening and abusive behaviour will not be tolerated and will always be followed up.
"Alcohol has had a part to play in this disorder and with alcohol being sized from children under the age of 18, it is obvious that alcohol is being bought for them.
"As such I would ask off-licences to be mindful of who they are selling to and if they suspect it is to be passed on to a minor that they decline service and contact police.
"If you are a person buying alcohol for a young person be aware that if caught you will be charged and reported to the Procurator Fiscal.
"I would also appeal to parents and guardians to ensure that you know where your children are when they are out, who they are with and what they are doing.
"If police have cause to speak to your child in circumstances where they have been involved in anti-social behaviour or are associating with others who are, you may be asked to attend and uplift your child, or your child may be brought home by police.
"Otherwise, you may receive a letter informing you of the circumstances under which we engaged with your child.
"Anti-social behaviour can have a negative impact on communities and anyone found to be engaging in anti-social behaviour will be dealt with robustly".