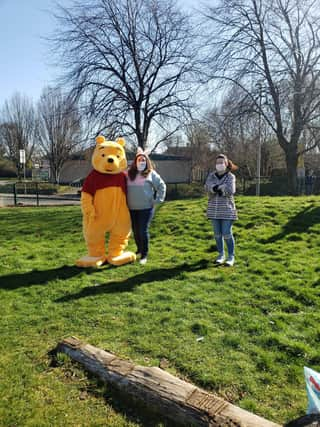 The parent councils of both Holy Family Primary and Mossend Primary had kindly arranged a socially distanced egg hunt on Holy Saturday which was deemed as a "great event" with a special guest appearance from Winnie the Pooh.
Yet when the volunteers turned up to place the eggs on Good Friday they were dismayed by the amount of litter that awaited them at a green space they had helped create in recent years.
They took on the task of a clean-up team to get rid of litter only to find it was every bit as bad when they returned to the scene the following day sparking a second tidy.
Selfish park-goers had even tried to sabotage the egg hunt by removing numbers and letters that led the youngsters to their prizes meaning these too had to be re-done.
Andrea Gardner who is chairperson of Mossend Primary School Parent Council said: "Most of the children can't get the use the area now because of the rubbish and burnt picnic tables. We worked hard to get this park up and running now it is just a disgrace."
There are now calls for better lighting and cameras at the site backed by Councillor Frank McNally. For more see Page 4.