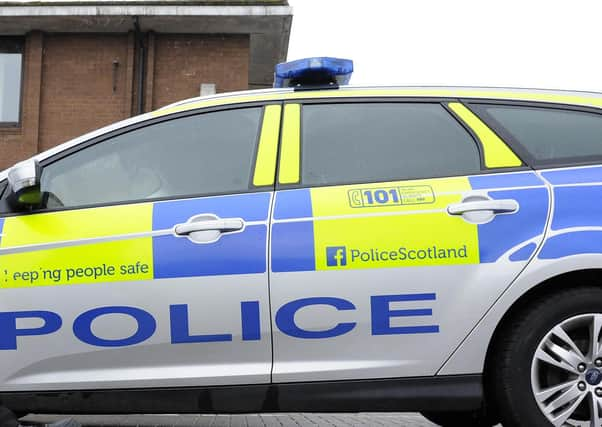 The incident happened in the Westercleddans area of the town on Wednesday.
Police said they are investigating the incident.
The local resident posted on a community Facebook group: "Two people came into my back garden yesterday trying to steal my puppy, They tried it twice.
I've contacted the police. Please be aware that these people are around the Westercleddans area."
She described the thieves as having Glasgow accents, both wearing dark clothes, one with a dark puffa jacket with a red, orange and yellow horizontal stripe across the chest and shoulders.
She added: "It was awful. They were trying to entice her but she was scared and came to our door. That's when I saw them standing in the garden.
"They came back to try again. The second time, our dog was safely out of harms way.
"Words can't be expressed what I think of these individuals.
Almost 100 residents responded to her post.
One said: "Thank you for posting, we have contacted the local police about threats in our area too, Wallacefield! Very frightening as there are loads of new puppies around.
Another Bishopbriggs resident posted: "I was walking my pup at the pond off Angus Avenue last night (Wednesday) around half 8 and 2 adults on bikes kept trying to talk to me and call my pup over.
"They kept passing me going very slowly then got off their bikes and waited on me passing them. They were trying to make conversation and get my pup to go to them. I put him on the lead and left.
"Might be over reacting but they just made me feel very uncomfortable."
Another posted: "What the heck is up with people these days? Glad your wee pup is ok."
The Herald reported online yesterday (Thursday) how a puppy bought on Gumtree died within days of being picked up by its new owners.
They paid £920 for little Milo, who, although advertised as a Jack Russell terrier, turned out to be a Border collie pup.
The buyer has asked to meet Milo's mother and was told that it wasn't possible due to current COVID restrictions.
The family didn't know he was seriously ill after being taken away too early from his mum and the little pup died days later at the vets.
As well as a huge spike in puppy farming due to covid, there has also been a rise in the theft of dogs across the UK as demand has risen for a pet because of lockdown.
Christmas approaching has made the situation worse, with one rescue centre describing demand for dogs at the moment is "unprecedented".
Bliss Cavalier Rescue posted on their website: "As a rescue we are very alarmed following another surge in enquiries from people looking to adopt puppies and young dogs from us since the second lockdown restrictions were lifted. The sheer number of enquiries is unprecedented.
"We rarely have puppies in rescue yet the number of requests for puppies is vast. In just one morning recently we received 23 emails and social media messages from members of the public wanting a puppy or young Cavalier in time for Christmas."
They added: "This huge increase has driven up dog theft cases and further increased unethical breeders desire for even more litters to be born and sold. Other rescues have also informed us that many more dogs are being bred and imported from overseas."
A spokesperson for the Scottish SPCA added: "We are warning the public to be extra vigilant when buying a puppy and not to accept any excuse not to see the puppy with mum.
"The public needs to remember that these low-welfare breeders are master manipulators and are skilled at deceiving people. No matter how plausible the excuse, do not accept it. You must see pup with mum, that is the bottom line."