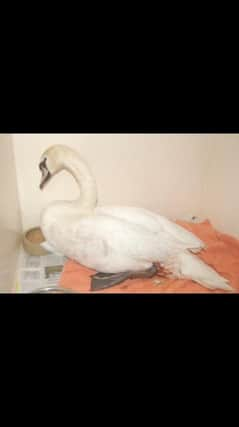 The swan was badly bitten above its leg and its left eye was injured after the attack on Sunday, February 14.
Dedicated volunteer Kirsty Murdoch from Bearsden heard about the incident and managed to capture the swan and take it to Hessilhead Wildlife Rescue Centre for treatment.
At first, Andy Christie, co-founder of the centre thought the swan's injuries were not life threatening and hoped it would recover.
But sadly, a wound above its leg was too deep and the swan had to be put to sleep.
Andy hit out at irresponsible pet owners. He said: "This was a dog that was out of control. The next time it may be a child."
Kirsty, who found the injured swan under a rhododendron bush told the Herald: "From speaking to other people we found out it was attacked by a dog and had been under the rhododendron for 24 hours.
"This is the second time this swan has been attacked by a dog at this location. As a result of the first injury it had been unable to fly.
"The owner of the dog should feel ashamed. I hope other owners take heed."
Andy said: "It had a lot of bites on its back and its left eye and there was quite a lot of bleeding. Quite painful for the swan."
Ad he praised Kirsty for her efforts, saying: "She is very capable and was able to catch the bird in a type of bag the wildlife centre uses especially for swans."
He added: "Swans are not as formidable as people make out."
Hessilhead Wildlife Centre, based at Beith, West Ayrshire, covers the whole of Scotland and has seen an unprecedented number of animal casualties over the past year.
Andy said: "Around 90 per cent of the casualties are influenced by mankind. It's frightening and very sad."
He said the past year had also been "a disaster" on the fundraising front for the centre because of the pandemic.
You can donate to the centre via the website at http://www.hessilheadwildlife.org.uk/ or by calling 01505 502415.