Bearsden family's despair over traffic lights plan at Allander junction
The mum of a young woman with serious mobility issues is appealing to East Dunbartonshire Council not to take away her car parking space.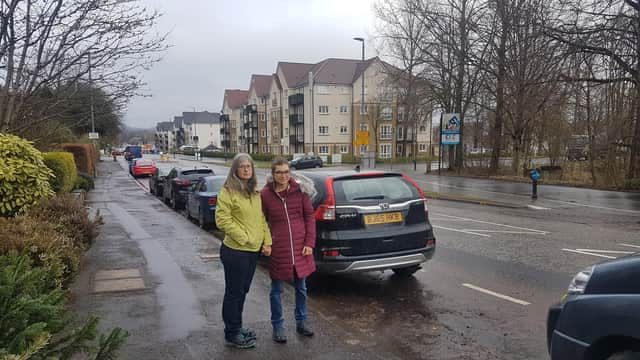 Lynne McLean with her daughter who has significant mobility issues
I am contacting you in response to an email reply received from Thomas Glen of EDC.dated 10th December regarding the proposal to install traffic lights at the Milngavie Road junction with the Allander.
We have resided at 255 Milngavie Road for 23 years. Our daughter has cerebral palsy, severe learning difficulties and significant mobility issues. The importance of immediate access to the front of the property, not only for us but also for carers and support workers who provide services for her and for supporting family members, is paramount.
We gave very careful consideration to purchasing this property when she was a toddler. We considered that being on the main road and having immediate access to bus stop and transport links, with the proximity to shops would be of great importance should our daughter be able to be more independent as she she got older. We also saw the benefits for her of green space across from the house.
The original planning application for housing development on the former bus garage and kilmardinny land sites was submitted over 16 years ago we have had to to deal with many years of planning objections and amendments with the uncertainty and disruption that has brought for us.
The development was ultimately approved and for the last few years we have endured the disruption, noise, dirt and dust from the construction sites on a daily basis.
As a result of the substantial increase in new housing developments on green belt areas around Bearsden and Milngavie, traffic on the A81 has increased however we have been able to see first hand, that there have been no issues with the flow of traffic into and out of the development at Kilmardinny.
Traffic lights were not installed when the development was being constructed , however the splay at the exit of the junction from the allander was widened to allow for traffic to exit to the left onto the southbound carriageway and this has made an impact in reducing the queue of traffic exiting from the Allander at the peak time of 11 a.m. on Saturday mornings when children were being dropped off and picked up from sports classes.
The junction in its current layout is working well; there have been no accidents at the junction and traffic is perfectly free-flowing. I am therefore at a loss as to why it is considered that traffic lights are required for this junction.
There are already sufficient pedestrian crossings on Milngavie Road at this point.
We were first made aware of the proposed traffic light installation when our neighbour brought to our attention a copy of an annexe to a transport assessment report for the planning application for the new leisure facility.
The report was merely a recommendation and highlighted that any traffic management alteration would have to outweigh the disruption caused. It further noted that traffic peaks were only for 15 minutes at evening rush hour and for a short period around 11 am on a Saturday morning when children are dropped off and picked up from sports classes. Traffic has reduced even further since the increase in home working as a result of the pandemic and it is expected in the future that home working may become part of our new normal.
The minor inconvenience of short waiting times at very restricted times of the week to exit from an already suitable junction, does not merit and certainly does not outweigh the major disruption which the installation of traffic lights would cause.
Traffic lights would cause significantly more pollution from idling traffic, and the impact of this has been highlighted in a recent case in England. Surely it would be more appropriate for the council to be considering what can be done to to reduce dangerous emissions, rather than add to the problem.
In an email to to Mr Gordon Cox of the Bearsden North Community Council on 30th November Mr Glen of EDC stated that it would be in the best interests of the development to proceed with the traffic light proposal. We took particular exception to that statement; we have been paying council tax within Bearsden and Milngavie for 30 years and our interests need to be considered every bit as much as the residents of the new development; in fact I would think our interests should be considered even more so, given the disruption that we have had to endure in all this time.
The properties constructed in the development all have the benefits of hard standing driveways within the curtilage of their property in addition to a garage. (We have noted from walking through the development that these garages for the most part are used by the proprietors for storage and not for the parking of any vehicles.)
Losing our parking facility would hugely impact on us as a family, as well as our neighbours - we rely on parking for our daughter's safe access to the house, for parking for her service providers, for our visitors and family, particularly elderly parents with mobility issues, deliveries and for tradesmen when work is required at the house.
Due to the nature of our daughter's disabilities, the little back garden space we have is enclosed for her safety and is her haven from the road and traffic at the front - we maximize this for her benefit.
It is not a case of "changing our behaviour" when we lose our parking amenity, as was suggested in a previous email response to our concerns. It is rather a loss of amenity, afforded to other properties in the area, and also a significant loss in the value of our properties in which we have heavily invested both personally and financially.
To summarise, the detrimental impact which traffic lights would have on us is significant:
* Health and well-being would be affected by the emissions from idling traffic
* Lack of parking for us, family, visitors, carers, tradesmen, deliveries.
* The more inherent danger of walking on a pavement next to traffic, without the buffer of the parking zones, which in our case would add a huge obstacle to our daughter's safety, as she is unsteady.....
....all for the sake of a 10 minute period during the day when traffic is considered heavier in the new development.
I suggest that the existing increase in the left hand turn splay at the junction is more than adequate for the traffic exiting the development:-
* There have been no accidents
* Traffic flows well on the A81 at all times
* Traffic is considerably less due to home working
* There are adequate existing pedestrian crossings on the A81 at this point and no more are needed
* The much wider pavement/ cycle path on the east side of the A81 could be utilised to realign the road if it was still considered that traffic management was needed
I would vehemently oppose any TRO and take legal advice as to the lack of consultation and impact traffic lights would have on the value of our property.
It is a privilege, but a challenge to raise a disabled child. But please do not make this even more of a challenge for us by cutting off our ability to maintain our daughter's safety and allow the amenity of access to our properties.
For the reasons stated above I would urge you to re-consider the proposal.
You have my permission to forward this to any other councillors or those who may have an interest.
Lynne and Alistair McLean