Bings evidence of Tarbrax Oil Works
Tabrax was at one time home to a major industry, the production ofparaffin.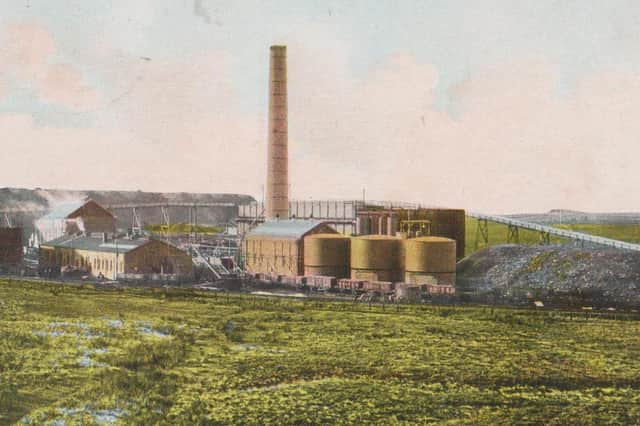 This was produced from the local shale. Evidence of this is still to be seen adjacent to the village; it takes the form of a collection of red shale bings.
The idea of producing oil from shale was developed by a Scottish chemist called James Young, better known by his nickname Paraffin
Back in the 1840s he started exploring the idea of producing oil from coal. He used cannel coal for his initial experiments but by 1860 he hit on the idea of using shale.
The first works were started up in West Lothian near Addiewell. However, it was not long before a paraffin works was built at Tarbrax. This week's photograph shows a view of the paraffin works as it looked at the beginning of the 20th century.
Work on the first paraffin works started in 1868; at the same time a village was created for the workforce and the majority of them survive today. Before that time there was no Tarbrax village, just a couple of farms.
Initially, the paraffin was used in lamps which replaced candles in virtually every household in Britain.
Paraffin lamps remained in use until way into the 1930s, as only a few homes were connected to the electric grid. It was later used for portable heaters, especially in the 1950s but by this time production in Tarbrax was but a memory.
Tarbrax Oil Works was the first company to operate near the village. It was succeeded by the Lanark Oil Company in 1883. It built a works for distillation of the oils from the shale just next to the golf course in Lanark. This company also created 36 more houses in Tarbrax. Even more houses were added in 1890 by the Caledonian Oil Company.
After the 1890s, with the advent of cars and lorries, attention turned to the exploitation of oil, as a result of which paraffin could be produced more easily than extracting it from shale. Wages were cut to enhance profitability but that did little to save the works.
After a pay strike in 1925, the works closed. At that point many ex-employees went abroad, many to New Zealand, in search of work.