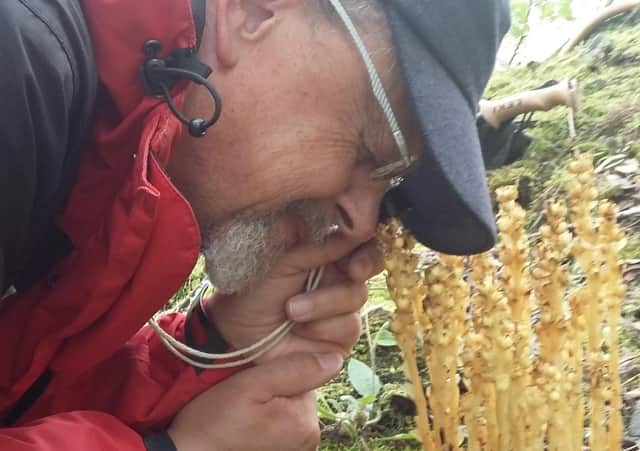 The new sports complex to the west of Park Burn in Kirkintilloch will include a floodlit, all-weather football pitch, changing facilities, spectator stand and car parking.
When complete, the 
facility will be managed and operated by Rob Roy and will be the club's home for competitive matches as well as for use by the wider community. Work is due to start on the new facility within weeks.
However, alarm bells rang when Kirkintilloch conservationist and nature visual artist Tom Wilson came across the Hypopitys Monotropa plant, known as 'yellow birds nest' after studying the brownfield site over the past few months.
Mr Wilson said: "It took me a wee while to establish what this unusual plant was.
"The Hypopitys Monotropa is extremely rare in Scotland and in the UK in general. There are around only 10 locations in Scotland and the plant is considered an important find.
"Once I identified it I contacted East Dunbartonshire Council's planning department and botanist Michael Philip.
"I led Michael and another botanist around the site and during this survey established there were six colonies of this plant with a total population of 340 individual plants."
Mr Wilson added: "Why was the presence of this plant not picked up when the site was first surveyed earlier on in planning application?"
Depute Chief Executive, Place, Neighbourhood & Corporate Assets, Thomas Glen, told the Herald the council had engaged with Mr Wilson and Mr Phillip over its discovery.
He said "Their observations have helped inform the re-location strategy for the requirement of a planning condition that was brought about as a result of the ecology and habitat survey for the site. The relocation of this rare species of plant forms part of the planning approval for the development."
But he added: "Whilst every effort will be made to safeguard the plants during the relocation process when work begins on site during October 2020, it cannot be fully guaranteed that the survival rate will be as successful as anticipated due to the unique growing characteristics, necessary environment and climatic conditions of Hypopitys Monotropa (yellow birds nest)."