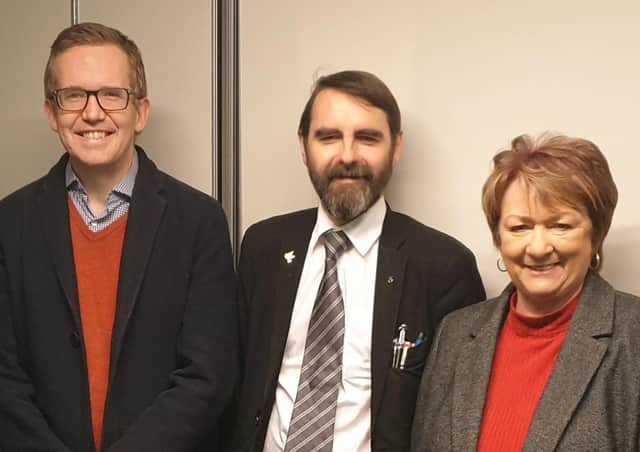 Stuart McDonald, MP for Cumbernauld Kilsyth and Kirkintilloch East is arranging the meeting, along with Strathkelvin and Bearsden MSP Rona Mackay and Cumbernauld and Kilsyth MSP Jamie Hepburn
The Scottish Environmental Protection Agency has invested in large-scale works to improve flow on the Kelvin downstream.
However, recent weeks have seen flooding on key roads across the area and in some residential properties which were showcased on STV's flagship news programme Scotland Today
Areas near Kilsyth were particularly badly hit but it also impacted road routes to Milton of Campsie, Lennoxtown and Kirkintilloch.
And Mr McDonald says now is the time to get round the table for talks on how to stop this.
He said: "We all recognise the risk of flooding continues to increase due to climate change.
"However, there does seem to be specific problems emerging along the Kelvin and I am keen to hear from SEPA what more can be done to reduce the risk at a local level."
Ms Mackay said: "A number of constituents expressed alarm regarding the recent flooding of residential areas and vital transport routes in East Dunbartonshire.
"With the increase of severe weather, that burden should not fall on my constituents. I look forward to exploring preventative measures with SEPA."
Commenting on the issue, a spokesperson for the Scottish Environment Protection Agency said:"SEPA is aware of recent flooding incidents in the Kelvin Valley, particularly of the B757 Birdston Road and areas near the river in Kilsyth.
"Flood Risk Management in Scotland is founded on partnership working.
"As the authority on Strategic Flood Risk Management, we provide evidence and advice including national flood risk assessments, flood mapping and flood risk management strategies which informs local implementation of flood protection measures.
"It is the responsibility of local authorities to implement and maintain flood protection actions. Local authorities also inspect, clear and repair watercourses to reduce flood risk and routinely maintain road gullies on public roads.
"Plans are being arranged to meet with the relevant authorities and MSPs in relation to the flooding in the Kelvin Valley.
"We will continue to work together to support communities to avoid flood risk where they can, adapt where they cannot and act when warned of flooding."
Last week, North Lanarkshire Council stated its intention to investigate the matter further after engineers and workmen were called out to the town.
This involved the evacuation of a sheltered housing complex and an extensive mop-up job with drainage specialists drafted in.
While the authority insisted that no long-term damage had been caused, it revealed that it has commissioned consultants to investigate ways in which flooding can be alleviated in and around Kilsyth
A detailed draft report on the issue is expected by the end of the month and it was stressed that steps will be taken to put recommendations in place.
In the meantime the authority says it will try to keep culverts and grills clear to minimise any future damage during periods of heavy rainfall.