Fury over Wardpark amenity tip access row
A Cumbernauld woman claims restricted access to recycling facilities has left her with rubbish piling up in her home.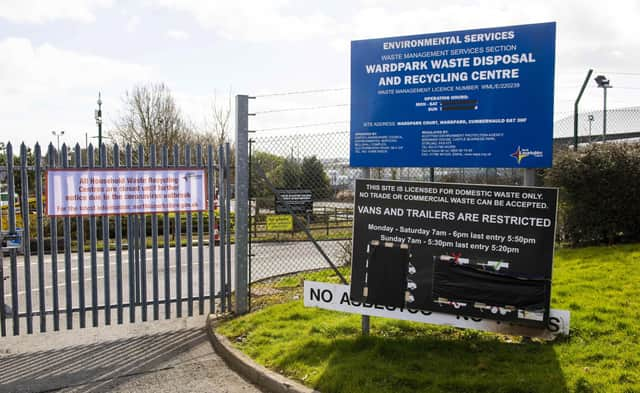 Balloch resident Lou Wallace says her husband Stephen has not been allowed to use Wardpark Recycling Centre due to not having enough ID to be permitted access.
She said: "My husband has lived within North Lanarkshire for nearly 54 years, his parents and then he himself, have always paid council tax and used the recycling centre at least three times a month.
"Due to the build up of rubbish, partly due to the fact that we only get our bins emptied once every three weeks and partly due to the Covid-19 lockdown where house repairs and works have been carried out, this has left many things tip-bound.
"Current restrictions on the centre state that anyone using the tip has to be a NLC resident, not only do you have to prove this with a council tax bill or another NLC official letter, you also have to have photographic proof."
Lou says that although Stephen has recently needed to replace his driving licence he is yet to receive the new one due to the lockdown, and has no passport, and on a recent visit to Wardpark security guards told him to call NLC to establish his credentials, but on doing so was told he would require photographic ID to access the centre or would otherwise need to arrange special uplift – which costs £35 each time. 
Lou added: "The person my husband spoke to on the phone hinted that these restrictions may actually be kept in place when things get back to normal after covid lockdown.
"I do not understand why there are no interim rubbish removals in place if these restrictions can't be met for whatever reason, leaving council tax payers of NLC having to pay £35.
"I struggle with mental health and need my home to be as clean and tidy as possible, I can't cope with piles of things causing issues in each room as my head is messy enough without my space being so."
A council spokesperson said: "Our Household Waste Recycling Centres are for use by North Lanarkshire residents only, and we ask for photographic id and proof of address to prevent people from other areas using these facilities, which happened regularly in the past.
"These rules are in place in a number of local authorities. As well as a passport or driving licence, we can accept id such as a badge from an individual's workplace, a travel card or student card."