Going Green: Lead by example to help climate change
What's the best way to have climate conversations? I have friends who take a lot of flights, and they don't seem to care about the environmental impact.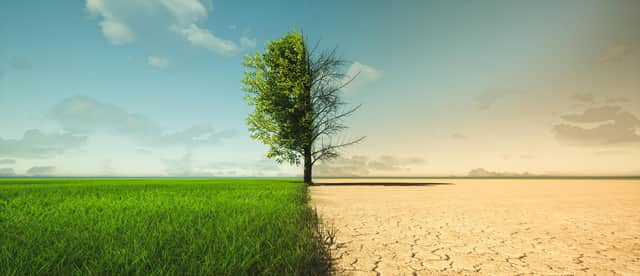 The truth is, it can be difficult to talk about climate change and our impact without sounding preachy.
That said, it's not something we should stand idly by and not advocate for as it's something we feel passionately about and like anything; practise makes perfect.
British people spend hours talking about the weather – a study showed we spend over four months of our lives talking about it with most of us mentioning it on average three times a day and climate is really an extension of this topic.
The worst thing we can do is use the big stick of judgement – asking them if they don't care for the planet or their children will cause tension. It's better by far to talk about our own behaviours. For example,
if you're taking the train to Europe on holiday, talk about it. Explain your decision making and why you decided not to fly. If you've decided to stay in the UK, you can tell them all about the benefits of not having to spend a day travelling to get to your destination.
I went to Guernsey this year and when a friend of mine was talking about her airport delays and weather that was too hot to go out in and enjoy the destination, I was able to tell her about my three hours on a scenic ferry that ended in beautiful sunshine and amazing food.
Extreme weather is a great way into climate change conversations because it's all around us. Next time a football match is cancelled because of hard ground or bad weather, use it to open up a dialogue about climate change.
If you have kids who play team sports, offering to car share with the other parents shows you care about the planet. Plus, that way you're all using less vehicles and the added bonus is that only one of you has to stand out in the cold. So as well as pitching it as a money saving step you can frame it as a planet saving action.
You can lead by example too, if you're making tasty veggie options, share them with friends and talk about why you've decided to eat less meat. A lot of people don't directly correlate their behaviours with tackling climate change and when they have easy and better alternatives, they're happy to make worthwhile adjustments like meat free Mondays.
If you know someone who is into fast fashion, you need look no further than the relationship with Love Island and Ebay as a great example of sustainability and 'celebrities' changing behaviours.
I have solar panels on my house and an app that tells me how much I'm generating. Often people ask me about it and they become instantly fascinated by power from the sun.
If you're passionate about the environment there are plenty of ways to share that enthusiasm without it sounding like you're calling out the behaviours of other people. Simply lead by example and share what you care about. You'll be surprised how many people want to talk about their concerns as well.