Going Green: Musicians can help in tackling climate change
Coldplay have released a tour sustainability report making them one of the few artists in the world to do so. Their current 'Music of the Spheres' world tour has so far produced 47 per cent less CO2 emissions than their previous stadium tour in 2016-17.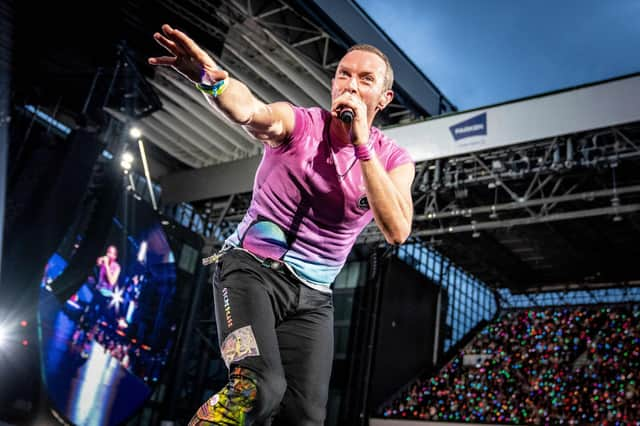 66 per cent of all their tour waste has been diverted from landfills into recycling. Five million trees have been planted – one for each person attending their concerts and crucially, the trees will be supported to maturity. The power for the tour is coming from renewable sources and they've donated 3,770 meals and 73kg of toiletries to the homeless in the cities they've played in.
Coldplay might be a band and not a business but sustainability reporting isn't mandatory in the UK unless you're a FTSE 100 company or turn over £36 million or more.
But imagine if every company no matter how big or small assesseded their green credentials and shared how sustainable they are? I suspect there are plenty of businesses who would make changes once consumers knew how many miles they flew or how much single use plastic are wasted in their operations.
There are lots of companies out there that are guilty of greenwashing – creating marketing or spin to make consumers think they're more environmentally friendly than they are, but maybe where the music industry leads, others will follow.
Coldplay have taken the leap to release their tour sustainability report but there are plenty of other musicians who are also doing good and talking about it too.
Billie Eilish's 'Happier Than Ever' world tour in 2022 released a World Tour Impact report which showed over 117,000 single use plastic bottles were eliminated at shows. Over 8.8 million gallons of water were saved by serving plant based meals for the entire tour crew and over 15,000 tonnes of C02 were apparently offset via certified climate projects.
Research from Cambridge University in 2019 studied the tours of five musicians using a carbon tracking tool. The researchers found the artists added 19,314kg of CO2 into the environment in just six months which is the equivalent to taking nearly twenty return flights from London to New York.
If sustainability reporting was mandatory across all industries, imagine what a difference this would make to the challenges of climate change .
With transparency there'd be more accountability, companies and industries wouldn't be able to hide behind green washing or staying silent – they'd be forced to make real long-term differences that'd help.
The top 100 companies globally are responsible for 71 percent of the global greenhouse gas emissions. Arguably, these 100 companies are in the driving seat when it comes to tackling climate change and reducing global emissions. Maybe the arts and music industry can lead the charge that will see every company in the UK release information about their carbon footprint.