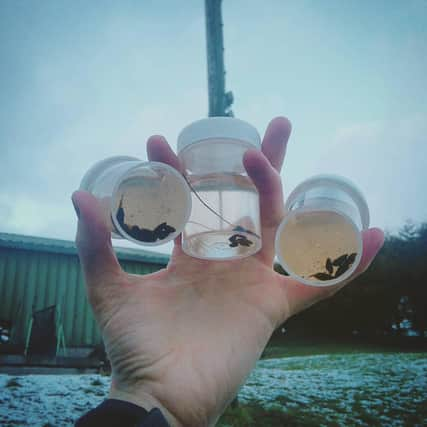 However, the Pond mud snails which have been released by the charity Buglife Scotland at West Balgrochan Marsh in Torrance are helping tackle the decline of this rare species as part of a Biodiversity Partnership project from the East Dunbartonshire Local Biodiversity Action Plan.
Once widespread across the UK, the Pond mud snail has declined by almost 50% in the last 25 years and has been lost from 64% of historic sites in Scotland.
This decline has largely been due to habitat loss as a consequence of human activities such as agricultural practices such as use of artificial fertilisers, redevelopment and construction and alteration of the landscape for aesthetic purposes.
However, as a result of Buglife's Marvellous Mud Snails project, which came to an end in 2019, the number of sites where the Pond mud snail can be found in Scotland was increased from just five up to a total of eleven sites.
This was achieved through a combination of surveying sites with historic records of the snail and a captive breeding programme to boost the population.
Mud snails were collected from Kinkell Farm in East Dunbartonshire following consent from the landowner, bred in captivity by Buglife and local schools and then released in sites all across Scotland.
One of the new mud snail sites created through the project was at West Balgrochan Marsh thanks to some funding and assistance from East Dunbartonshire Council.
Buglife Conservation Officer Joanna Lindsay said: "The Marvellous Mud Snails project in Scotland, funded by the National Lottery Heritage Fund, was set up to tackle the decline of the rare Pond mud snail (Omphiscola glabra) and educate people about the importance of freshwater habitats.
"Initially, fourteen captive bred snails were released at West Balgrochan Marsh at the end of the project and now, to boost the population at this site, more are due to be released this February.
"The snails will be released into small temporary pools which were created on the marsh specifically for them, and hopefully they will then continue to breed."