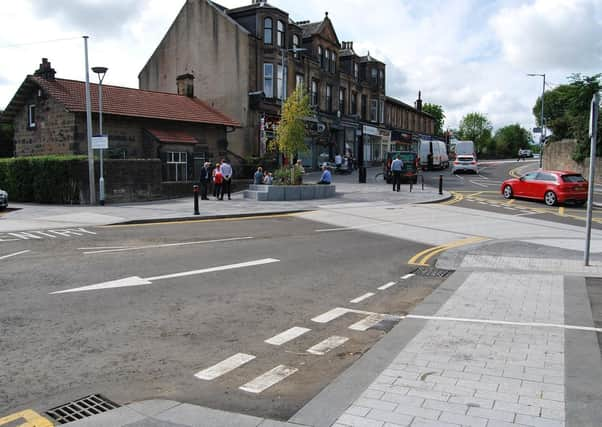 The project - which included a range of enhancements in the car park and Lenzie Cross area - has been shortlisted in the Excellence in Walking, Public Realm & Cycling category of the 2020 Scottish Transport Awards.
The project was unveiled last summer and included:
Upgraded traffic lights - including dedicated cycle phase
Improved pedestrian crossings and tactile paving
Footpath improvements with high-quality materials and bollards
Upgraded lighting and road markings
Enhanced street furniture and landscaping - including flower beds and seating
Improved cycle facilities
New noticeboards for Lenzie Community Council and Friends of Lenzie Moss.
The Council project also included improved short-term parking bays to boost access to local shops and businesses.
Funding was secured through planning gain from housebuilders involved in the Woodilee development, with support from Strathclyde Partnership for Transport (SPT), Abellio ScotRail and Network Rail. In addition, funding from Transport Scotland, through the Sustrans Places for Everyone programme, enabled improvements for people walking and cycling.
Proposals to improve the public space around the railway station and adjacent shops were developed following extensive engagement undertaken by the Council and Sustrans Scotland's Street Design team.
Consultation took place in 2016 and 2017 and looked at ways to help ease traffic and access issues - including engagement events, feedback sessions, a dedicated website and a detailed parking study - involving residents, businesses, commuters and organisations.
Councillor Vaughan Moody, Joint Leader of the Council, said, "I am delighted that the Lenzie Station project has been shortlisted as part of this year's Scottish Transport Awards. It's a real feather in the cap for all involved and recognition of the excellent work which took place. A huge thank-you to everyone for their patience while works were carried out."
Councillor Andrew Polson, Joint Leader of the Council, added, "The public realm improvements - aimed at increasing accessibility to local facilities and enhancing the area - were the culmination of a long-term project involving residents, retailers, shoppers, commuters and groups - which balanced a range of needs and requirements. Well done to all involved."
The winners of the Scottish Transport Awards 2020 are due to be announced on 24 September.
You can check out all the shortlisted entries by visiting www.transporttimes.co.uk/awards.php/Scottish-Transport-Awards-3/