The Scottish Conservatives asked for data from all of Scotland's local authorities – 30 of the 32 responded, including North and South Lanarkshire Council.
In Lanarkshire alone, there were 6400 instances of fly-tipping recorded last year. Across the 30 local authorities, there were 60,405 fly-tipping cases recorded in Scotland in 2022, Glasgow City Council accounting for the highest number at 19,313.
South Lanarkshire Council alone reported 3040 instances where its facilities, waste and ground services team had uplifted fly-tipped material from council land.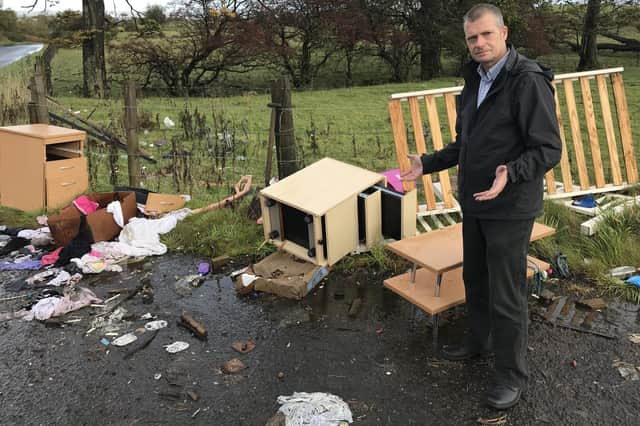 Graham Simpson, Scottish Conservative MSP for Central Scotland, said the figures underline why new legislation is needed to "tackle the growing scourge" in local communities.
A bill – which is being brought forward by Mr Simpson's Scottish Conservative colleague Murdo Fraser MSP – has already received support from key stakeholders, including Scottish Land and Estates, and is now set to come before Parliament.
It aims to improve the current laws around fly-tipping by ensuring that there is better data collection, reporting mechanisms and increased and standardised sanctions.
Graham has called on the Scottish Government to give this "non-party political bill" their full support as it progresses to the next stage.
He said: "It is clear from these alarming figures that robust, new fly-tipping legislation is urgently needed.
"Fly-tipping creates huge environmental damage across not only Lanarkshire but Scotland as a whole, blighting our region's landscape in both rural and urban areas.
"The irresponsible, destructive, and criminal dumping of refuse and waste at unauthorised locations leaves landowners and public authorities with the substantial costs of cleaning up.
"Such incidents – often carried out by organised crime gangs – are clearly on the increase in Lanarkshire, so it's important legislation is introduced as soon as possible.
"Murdo Fraser's bill is not party-political, but a common-sense piece of legislation that will help to tackle a growing scourge in our communities and I hope the Scottish Government can offer their full support."
Just last week, South Lanarkshire Council urged Clydesdale residents to report those responsible for fly-tipping in our countryside after the cleansing team removed a massive pile of rubbish in East Kilbride – at a cost of £906 of tax payer's money.
While this happened in another part of South Lanarkshire, it is far from an isolated incident. The cleansing team have had to remove more than 220 instances of fly tipping already in 2023.
Councillor Robert Brown, community and enterprise resources committee chairman, said: "Our teams work hard to tackle fly tipping in our communities. The reality is we need everyone to help us by reporting this behaviour, carried out by a minority of people who seem to think the rules don't apply to them.
"This costs the public services time and money that could be better spent on other things."