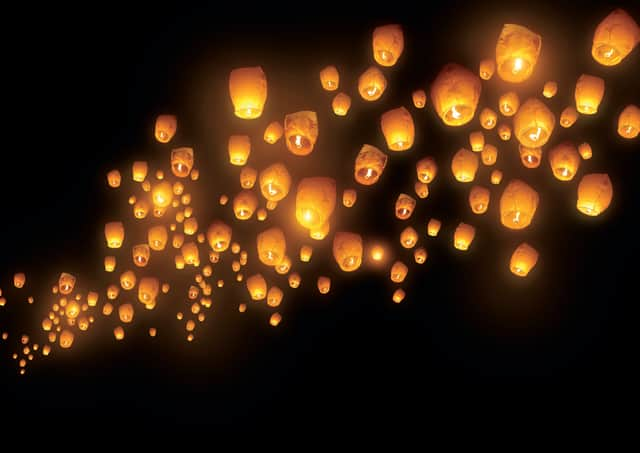 The NFU Scotland has called on emergency services, local authorities and politicians to support a complete ban on Chinese sky lanterns
With emergency services focused on combating coronavirus and wildfires predicted in Scotland because of dry weather, the farmers' union has slammed the idea of a mass launch, intended to show support for frontline health workers, as reckless.
Chinese sky lanterns are made of paper on a wire or wooden frame with a burning candle inside. NFUS has long supported banning them due to the fire risk they present, particularly in agricultural areas.
The union has written to the manufacturer allegedly behind the proposed mass release as well as the emergency services, politicians and councils seeking support.
President Andrew McCornick said: "It is unbelievable and totally unacceptable that companies are encouraging the public to demonstrate support for our hardworking frontline services by something that is at a high risk of increasing the burden on them.
"The Wildfire Danger Assessment in Scotland for the coming days is extreme; land, buildings and property will also be placed at risk by these items and animal health will be compromised should they land on farms.
"This must be stopped, and we call on all those we have written to rally behind a call to have the release of Chinese lanterns banned.
"We suggest that they use social media and public statements to urge the general public not to take part in this campaign, but to continue to use safe ways to thank our front-line workers, such clapping, music and colourful rainbows in their windows.
"At this critical time, support for those in the frontline is best achieved by following Government advice, staying home, keeping safe, not undertaking any non-essential work or travel and by not engaging in any unnecessary activity that might potentially place any additional burden on our emergency services."
Insurance firm NFU Mutual has also weighed in on the issue, with rural affairs specialist Rebecca Davidson saying: "We owe the NHS a huge debt of gratitude and understand people want to show their support. We are urging the public to show their support in other ways as none of us wants to put additional pressure on emergency services.
"Sky lanterns present a fire risk in both urban and rural areas. Debris from burnt out lanterns can also injure and even kill grazing farm animals if they eat it.
"The countryside is extremely dry after three weeks without rainfall in many areas and sky lanterns released now could start grassland and moorland fires as well as putting homes and commercial premises at risk.
"Fires caused by sky lanterns are entirely preventable, and at a time when fire service crews are needed as an essential part of the coronavirus emergency response – so we are urging the public not to buy or use sky lanterns but to continue showing their support for the NHS in other ways."
NFU Mutual says the cost of farm fires totalled £46.4 million in 2018.