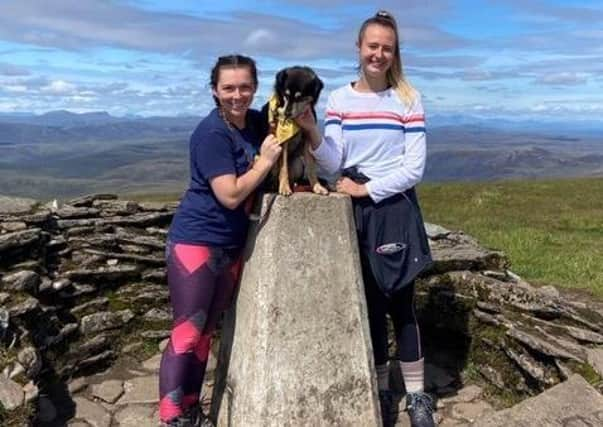 Sherlock lost his eyes as a puppy and faced many struggles before rescued and finding his forever home at the welfare centre.
His loss of sight has not stopped him from achieving many amazing things and climbing to great heights, quite literally.
Sherlock had previously walked the West Highland Way and The Rob Roy Way, which demonstrates how incredibly he really is, and has now bagged his first Munro.
The Covid-19 crisis has been a real struggle for the welfare centre so volunteer Sophia Baverstock and her friend Emily Shaw embarked on a sponsored hike to help raise some much needed funds.
Sopha said: "This was challenging for both of us, but Sherlock powered us through, he is the real hero of this story.
"We met many kind and generous people along the way and especially appreciated the cheers of encouragement when we reached the summit.
"The weather was on our side and managed to capture some wonderful pictures and videos which can be found on the Glendrick Roost Facebook page.
"It is fair to say that the descent definitely took its toll on all three of us, but with stunning views and a truly inspiring dog like Sherlock by our side, it was all worth it."
Glendrick Roost, which relies purely on donations, has over 160 animals who have been given a home for life at the sanctuary where they receive the love and care they need.
Sophia set up a crowdfunding page to document Sherlock's journey and to receive donations, to give your support visit www.crowdfunder.co.uk/sherlocks-walk-up-ben-wyvis.