Small Tortoiseshell tops Big Butterfly Count in Scotland
This year's Big Butterfly Count saw the lowest average number of butterflies logged overall since the event began 11 years ago.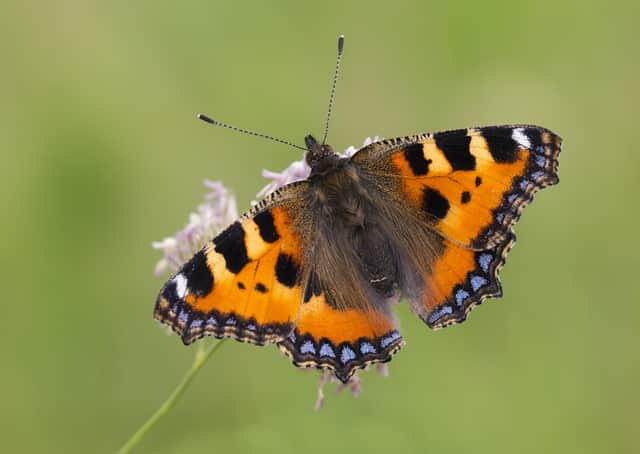 Top of the rankings...the Small Tortoiseshell topped the poll here in Scotland. (Pic: Bob Eade)
Worryingly the count, from July 17 to August 9, saw a 34 per cent reduction in the average number of butterflies logged per count in comparison with 2019.
Dr Zoë Randle, senior surveys officer at Butterfly Conservation, said: "Unfortunately, this summer has not seen an abundance of butterflies across the UK.
"We do see peaks and troughs in numbers; last year, for example, we saw a huge influx of migrant Painted Lady butterflies.
Second in the rankings...the Small White fared well here too. (Pic: Adam Gor)
"However, the data is an important snapshot which, along with our other monitoring schemes, helps increase our understanding of the rates of decline of butterflies and moths.
"Coming so shortly after the recent WWF and UN reports on the global biodiversity crisis, the 2020 results illustrate the perilous state of wildlife in the UK.
"However, the fact that so many people took part in this citizen science initiative is encouraging and makes a huge difference to our understanding of how the natural world is responding to the crisis it is in.
"Now we need to see initiatives, both here and across the world, to put nature on a path to recovery."
Third place...was secured by the Large White. (Pic: Mark Searle)
The fall in butterfly numbers this summer may be due to a number of factors. An unusually warm spring led many species to emerge earlier than usual.
So we may have only caught the tail-end of the flight period for many species during the count.
It's important to look at butterfly trends over longer periods, so scientists will be using the results to get a clearer understanding of what is happening.
Encouragingly, 2020 saw the highest number of butterfly sightings ever submitted by the public with 111,628 participants submitting a record-breaking 145,249 counts this year, an increase of 25 per cent on 2019.
Fluttering into fourth spot...the Meadow Brown. (Pic: Andrew Cooper)
It seems that, in a very dark and challenging year, the opportunity for getting out into nature was a very welcome distraction and Butterfly Conservation was thrilled the event was enjoyed by so many.
A total of 4188 counts were submitted by 3207 participants in Scotland.
The most widely counted butterfly here was the Small Tortoiseshell; almost 5000 individuals were seen.
Small Tortoiseshell fare better in Scotland and Northern Ireland. On average, participants here saw three times as many per count as people in England.
Shake your tail feather...flying into fifth place is the fabulous Peacock. (Pic: Mark Searle)
A recent study has shown that in each of the last four years, a substantial majority of Small Tortoiseshells were in hibernation well before the end of the count in south-east England. This suggests climate change may be having an impact on this species in the south.
While the decline of ecosystems across the world is a cause for great concern, the power of joint positive action is also evident in this year's count.
As more and more people submit sightings, Butterfly Conservation can better protect them by understanding the issues they face.
Butterflies and moths are valuable indicators of the health of our environment. Their declines show not only the effects of human behaviour but also the changing weather patterns.
Julie Williams, chief exeuctive of Butterfly Conservation, said: "A huge thank you goes to everyone who took part this year.
"This important data is so valuable to our research, helping us to understand what is happening to our butterflies and moths so we can take focused action to protect these fantastic insects and conserve them for future generations."
The top ten species spotted in Scotland this year was a follows:
Small Tortoiseshell 4982;
Green-veined White, 1970;