In an update over the weekend, Cineworld said a number of buyers are interested in acquiring the company, however the future of 'such transactions remain uncertain'. If the cinema-chain remains unsold then 129 cinemas across the UK and Ireland will close, handing a severe blow to the industry
Cineworld - which employs around 28,000 workers globally - is still fully operational but has stated it needs to recover from bankruptcy protection soon. A spokesperson for Cineworld said: "The company has now received non-binding proposals from a number of potential transaction counterparties for some or all of the group's business.
"The company is reviewing such proposals in conjunction with its advisers and key stakeholders and, whilst no decision has been made as to whether to pursue a sale transaction, and the terms of any such transaction remain uncertain, based on the proposals received to date, it is not expected that any sale transaction will provide any recovery for the holders of the company's equity interests."
So, which cinemas in Glasgow are at risk of closure? Here's everything you need to know.
Which Glasgow Cineworld cinemas are at risk of closure?
Glasgow is home to three Cineworld locations. Cinema's at Parkhead, Renfrew Street, and Silverburn are all at risk of closure if the company does not recover from bankruptcy protection.
Why did Cineworld fall into administration?
Cineworld group - which owns Picturehouse as well as more international cinema companies - has suggested that its problems can be attributed to poor post-pandemic recovery and the limited number of blockbusters that are being shown in its 100 cinemas across the country.
Full list of 129 Cineworld cinemas at risk of closure
Cineworld operates 103 cinemas under the Cineworld brand across the UK and the Republic of Ireland and a further 26 under Picturehouse brand.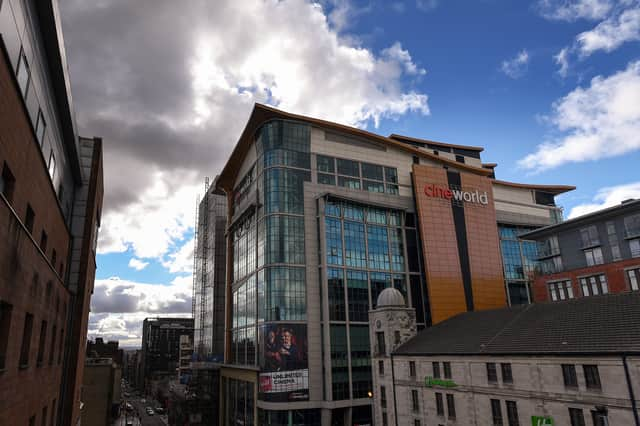 Cineworld cinemas at risk of closure
Aberdeen - Queens Links
Aberdeen - Union Square
Aldershot
Ashford
Ashton-under-Lyne
Barnsley
Basildon
Bedford
Belfast
Birmingham - Broad Street
Birmingham - NEC
Boldon Tyne and Wear
Bolton
Bracknell
Bradford
Braintree
Brighton
Bristol
Broughton
Burton upon Trent
Bury St Edmunds
Cardiff
Castleford
Cheltenham
Chesterfield
Chichester
Crawley
Dalton Park
Didcot
Didsbury
Dover
Dundee
Eastbourne at The Beacon
Edinburgh
Ely
Falkirk
Glasgow - Parkhead
Glasgow - Renfrew Street
Glasgow - Silverburn
Gloucester Quays
Harlow - Harvey Centre
Harlow - Queensgate
Haverhill
Hemel Hempstead
High Wycombe
Hinckley
Hull
Huntingdon
Ipswich
Leeds - White Rose
Leigh
Llandudno
London - Bexleyheath
London - Enfield
London - Feltham
London - Hounslow
London - Ilford
London - Leicester Square
London - South Ruislip
London - The O2 Greenwich
London - Wandsworth
London - Wembley
London - West India Quay
London - Wood Green
Loughborough
Luton
Middlesbrough
Milton Keynes
Newcastle upon Tyne
Newport - Friars Walk
Newport - Isle of Wight
Newport - Spytty Park
Northampton
Nottingham
Plymouth
Poole
Rochester
Rugby
Runcorn
Rushden Lakes
Sheffield
Shrewsbury
Solihull
Speke
Stevenage
St Helens
St Neots
Stoke-on-Trent
Swindon - Regent Circus
Swindon - Shaw Ridge
Telford
Wakefield
Warrington
Watford
Weston-super-Mare
Weymouth
Whiteley
Witney
Wolverhampton
Yate
Yeovil
York
Dublin