The documentary is directed by BAFTA winner Joe Pearlman in partnership with Netflix, BMG and Pulse Films. The all-access film has been in the making for the past four years and it sees Lewis at a pivotal moment in his career, billed as having "the story of a young artist, returning to his roots after achieving unbelievable global success, attempting to reconnect with his old life and the family and friends he left behind".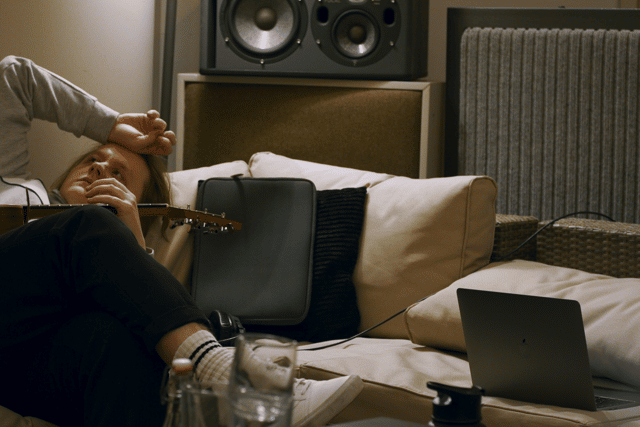 Sam Bridger, head of music film at Pulse Films said: "This started out as a film about the process of creating the 'difficult second album', but ended up being an astonishingly unguarded portrait of the pressures of fame on young shoulders, exploring one of the great conversations of our age – mental health.
"Such unfiltered access to one of the biggest stars on the planet is testament to the bravery of Lewis and his team who invited us into their world, and the incredible trust and storytelling instincts of Director Joe Pearlman, Producer Alice Rhodes and the production team."
'Lewis Capaldi: How I'm Feeling' will be released in the next few weeks ahead of the singer's highly anticipated second album, Broken By Desire To Be Heavenly Sent, which will be released on May 19.
Personal message from Lewis Capaldi
"When the opportunity to make a documentary came up for me I was extremely hesitant. I think because I seem quite open about a lot of things whether it be in interviews, on stage or social media people assume they know a lot about me and my life but in actual fact I tend to keep a lot of things to myself as a matter of preference.
"Now that this film, two and a half years in the making, is finally coming out I'd be lying if I said I wasn't wildly nervous. I feel like there's a lot of things in it I haven't spoken about before and in truth the film became way more intimate than I'd ever imagined so it feels like a particularly vulnerable position to be in.The trailer for the film comes tomorrow, Thursday 16th March at 3pm UK time and as nervous as I am, I'm really looking forward to sharing it with the world.The film is called 'How I'm Feeling Now'and it's named after a song I wrote, which will be released at midnight on 17th March.
"It's the last song I wrote for the my upcoming album and it's a tune that's all about something I've never really written about in my music before which is my mental health. Obviously I completely recognise how lucky I am to have the life I do and I know there are people in much worse positions than I am out there but as much as the last 5 years have been the best of my life, I would be lying if I said it all hasn't taken its toll mentally and honestly, there have been some extremely low points and that's what this song is about. I know the last few years have been and continue to be difficult for everyone so hopefully you relate to the tune in some way and it might be nice to hear there's someone else in a similar boat as you, I know it would for me.
"Lastly, I just want to say that I'm extremely proud of what this documentary has become and I have to thank Joe Pearlman, Alice Rhodes, Sam Bridger, Amy Rattray and everyone at Pulse Films, Independent Talent, Quickfire Films, BMG & Netflix for making it happen. Seriously been one of the most amazing and extremely peculiar experiences of my life however I doubt I'll be rushing to make another one any time soon because having a camera crew with you everywhere you go makes you look like a d*ck and is quite simply f**king stupid. Anyway I'll stop talking sh*te, the film comes out April 5th worldwide on Netflix, hope you enjoy it x"