The team at Silverburn rolled out the red carpet for a special guest this week as Effie Cameron celebrated her 100th birthday with her favourite lunch and shopping spree at the Glasgow retail and leisure destination.
The Grandmother of two and Great Grandmother of four, who has lived in the Southside of Glasgow all of her life until recently moving to Rashielee Care Home and Day Centre in Erskine, visits Wagamama in Silverburn weekly with her niece, Doreen Galbraith (80).
The pair used to travel by MyBus for their regular catch ups over their chosen chicken noodle dish, but on Monday they were chauffeur driven by Effie's granddaughter, Gael Redmond, and son Gordon Cameron for a complimentary lunch and a Patisserie Valerie birthday cake. Effie was also gifted a bouquet of flowers from Silverburn's General Manager, David Pierotti.
It's been a week of celebrations for Effie who turned 100 on March 15, and received a card from His Majesty the King for her milestone year. She also enjoyed a family lunch and party at Rashielee Care Home, topped off by her afternoon surprise at Silverburn on Monday.
Effie said: "I'm not sure about secrets to a long life, perhaps just sheer determination.
"I've felt truly spoiled all week with such lovely gifts and surprises from family and loved ones. The treats from Silverburn were the cherry on top of a fantastic week."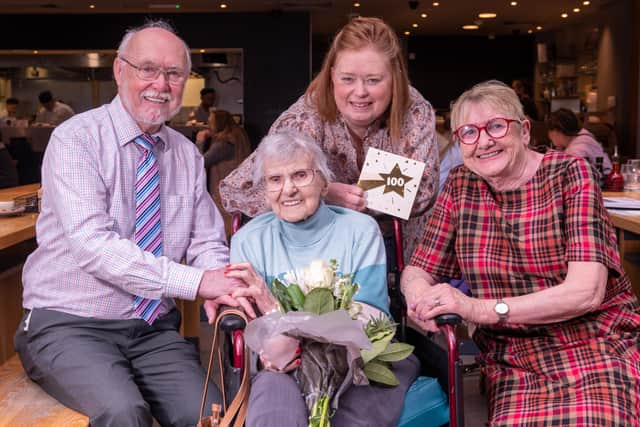 David Pierotti, General Manager of Silverburn, commented: "We recognise our role as a pillar of the local community and we love to hear about the routines and treasured memories that happen under Silverburn's roof. It was great to arrange a surprise treat for Effie and we hope she had a great day."