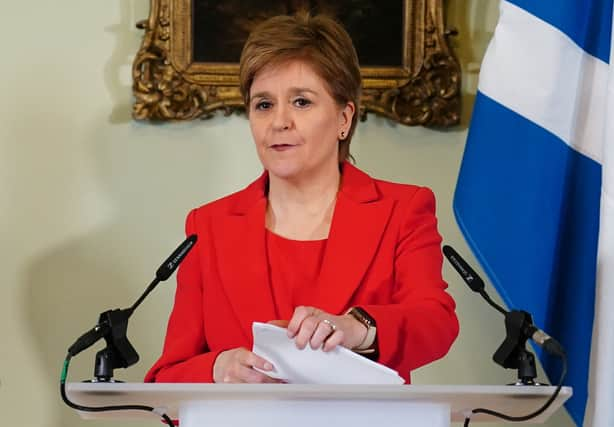 Nicola Sturgeon has resigned as Scotland's first minister after more than eight years in the role.
The Scottish National Party (SNP) leader made the announcement at an 11am press conference at Bute House in Edinburgh this morning.
Nicola Sturgeon to stay in parliament after FM resignation
Show new updates
Sturgeon to remain in parliament until next election
Sturgeon announces intention to stay in parliament until the next election and states she looks forward to serving her constituency. She concludes questions by stating that she is looking forward to a "different way of living life" before leaving the room.
When did Ms Sturgeon first begin to consider resigning?
ITV looks at the division within the party and asks: "Did certain key members lose trust in your leadership?"
She responds by saying that event during the "tough times", she enjoyed "approval ratings" after eight years in government that "most leaders would give their right arm for."
"The more people will find things to disagree with you on. But I believe I could, if it was just about can I lead this part and country forward... the answer is yes. But it is much deeper than that," she adds to remaining in office.
Sturgeon is then questioned over when she first began to think about quitting her role.
She responds by admitting: "I've been thinking about it with oscillating intensity. A couple of weeks ago it started to crystallise a bit more."
She adds that attending the funeral of 89-year-old independence campaigner Allan Angus yesterday had a "clarifying effect" on her thought process."
The FM expresses "I've got regrets about all sorts of things"
BBC Scotland political editor James Cook focuses on the pressures surrounding the NHS and that Sturgeon is nowhere near getting the sustained level of support required for independence. He asks: "Do you have regrets about one or indeed any of those issues?"
The FM replies: "I'm a human being... of course I've got regrets about all sorts of things." She reiterates: "I'm proud of my time as first minister," but that the future of Scotland is what matters.
Sturgeon alludes to turning 53 this year and states "Maybe I want to spent a bit of time on Nicola Sturgeon the human being. Does that sound selfish? I hope it doesn't."
"I could go on... but I would have less energy to give to the job"
Sturgeon then avoids being drawn into questions about transgender issues after touching on the row around transgender prisoners.
She is asked by Sky News "Was it a failure of your leadership not to deliver independence?" Sturgeon says she will "leave other people to judge" her record and adds "no, that issue wasn't the final straw."
Quizzed on what has changed since she stated a few weeks ago she would NOT quit, and whether concerns around her party's finances were an issue, Sturgeon repeats her decision is "not a result of short-term pressures."
She admits: "I could go on for another few months, six months, a year maybe, but I know as time passed, I would have less and less energy to give to the job. I owe it to the country to say it now."
FM confident her successor "will lead Scotland to independence"
Nicola Sturgeon has now concluded her resignation speech and is answering question from reporters gathered in Bute House.
Glenn Campbell of the BBC asks "If you can't lead Scotland to independence, who can? And what is the timetable for choosing a new party leader?"
She responds by confirming the issue of finding her replacement is one for the SNP national executvie committee which will set out a timetable for choosing a new leader. Sturgeon adds she will not be naming her top choice for the role.
On the topic of independence, she adds: "I believe we are in the final stage. I firmly believe that my successor will lead Scotland to independence."
"There is much to be proud of" - Emotional Sturgeon looks back on achievements
Sturgeon outlines she will not be leaving politics and will continue to take part in personal campaigns. "Obviously there is independence" she added and remains "convinced the cause is being won."
Reflecting on her biggest achievements while in office, Sturgeon reckons: "Scotland is fairer today than it was in 2015. There is so much that I am proud of, but there is always so much more to be done."
She then becomes emotional and thanks her husband and family for being "my rock throughout".
Addressing the SNP and people of Scotland, she states: "Please know that being your first minister has been the privilege of my life."
Public opinions have become "barriers" to debate
The First Minister claims she has found public opinions about her have become "barriers" to debate, adding that controversial issued "end up almost irrationally so" - but she doesn't make specific reference to the country's gender reforms.
She is calling on politicians to "reset the tone and the tenor of our discourse."
"Responsibility was immense" during Covid - Sturgeon
Ms Sturgeon speaks about leading Scotland through the Covid-19 pandemic by stating it was "by far the toughest thing I've done" and that the "weight of responsibility was immense."
She comments on the "physical and mental impact" the job has had on her and refers to the "nature and scale" of Scotland's every-day challenges.
"Energy" is needed in political leadership and standing down at this "critical moment", during a time when the "blocking" of a second referendum is a "democratic outrage."
Pressures of the job addressed
"I'm not expecting violins here but I am a human being as well as a politician," Sturgeon admits as she alludes to the pressures of the job.
She speaks about the lack of privacy in the role, stating that going for a coffee or meeting friends is very difficult - mentioning the "brutality" of life as a politician.
"Is carrying on right for me - or the country?"
Sturgeon continues by saying: "This decision is not a reaction to short term pressures," and that when it comes to "navigating choppy waters" she has a lot of experience to draw on. "This decision comes from a deeper and longer term assessment."
She confirms the decision has been on her mind for a number of weeks and must answer two main questions:
1 - "Is carrying on right for me"
2 - "More importantly is me carrying on right for the country, for my party and for the independence cause I have devoted my life to."
Sturgeon insists the answer to both is "no".