Here is the story of Scotland in the Nicola Sturgeon era across a series of charts which show how Scottish Government performance and the standard of living has changed across a range of crucial areas, from school attainment to A&E waiting times.
Crime
The crime rate has fallen across Scotland during Sturgeon's tenure. In the year ending March 2022, police recorded 524 crimes per 10,000 people, a fall of 16% since 2013/14. In comparison, England and Wales saw recorded crime rates rise by 49% over the same period.
Scotland's crime survey also shows marked improvements. The survey asks a sample of the public whether they have been victims of crime. There was no survey in 2013/14, but the one carried out in 2014/15 estimated the crime rate at 2,330 per 10,000 people. In 2019/20, this had fallen by 24% to 1,770 per 10,000 people.
However, crime levels have improved in some areas more than others. Look up recorded crime figures in Glasgow using our interactive chart.
Education
This is with the exception of 2020 and 2021, when the Covid-19 pandemic caused widespread disruption to the education system and external exams were replaced by teacher assessments, which saw pass rates temporarily rise.
Health in Scotland
Health services across the UK have been under extreme pressure since the Covid-19 pandemic with this winter being one of the toughest on record.
A&E departments have struggled to keep up with official targets which state 95% of patients should be admitted, transferred or discharged within four hours, however NHS Scotland has failed to achieve this since the start of the pandemic.
The proportion of attendees being seen within four hours plummeted to an all time low in December 2022 when just 62.1% were seen within the target timeframe.
Hospital waiting lists also continue to worsen in Scotland. In December there were almost 780,000 waiting for treatment or tests, representing a 121.7% increase on March 2014's figures, according to Public Health Scotland data. T
The number waiting has grown dramatically since the start of the pandemic, when the health system was under acute pressure.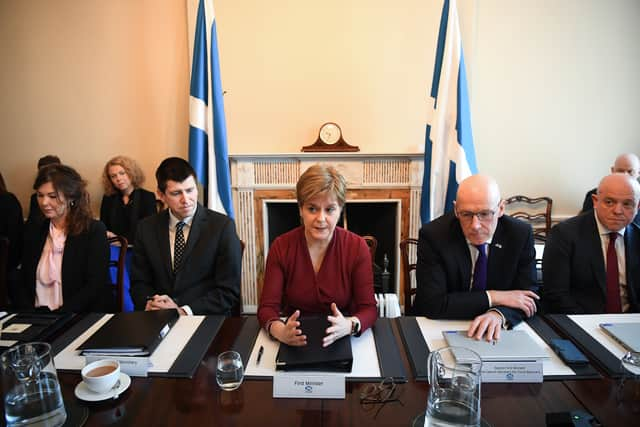 Average wages
In Scotland, average wages have increased in real terms since 2014, bucking the UK trend.
Across the UK as a whole, the median income of full-time employees, before tax, was £33,000 in 2022, a 0.4% fall since 2014.
However, the change in wages during Nicola Sturgeon's time as First Minister varies substantially across different areas of Scotland. Real-time wages are up 13.7% in Angus but down 17.1% in South Ayrshire over this eight-year period.
The percentage change in real terms for wages in Glasgow, 2014 to 2022 is an increase of 4.6%.
Unemployment
The unemployment rate has fallen sharply since Nicola Sturgeon became Scotland's First Minister.
The rate has fallen from 5.4% in the three months to December 2014, around the time she took office, to 3.2% in the three months to January 2023.
See how unemployment has changed in Glasgow using this interactive chart.
The number of drug-related deaths has more than doubled during Sturgeon's time in office with almost 8,300 lives being lost since 2014, according to data published by the National Records of Scotland.
The public health crisis remains an ongoing battle for Sturgeon's government who have seen a record high number of deaths in recent years. The country has the highest drug-related death rate in the UK with 245 per million people, five times greater than the England national average of 50 per million people.
Glasgow remains the worst affected area of Scotland for drug-related deaths, recording more deaths than any other council in the country during Sturgeon's time in office. The city has recorded 1,794 deaths between 2014 and 2021.