Asda Barrhead colleague goes above and beyond for unwell customer
Asda Barrhead colleague, Shaun Frye, has been praised for his caring nature, after he assisted an elderly customer when she felt poorly at the check-outs.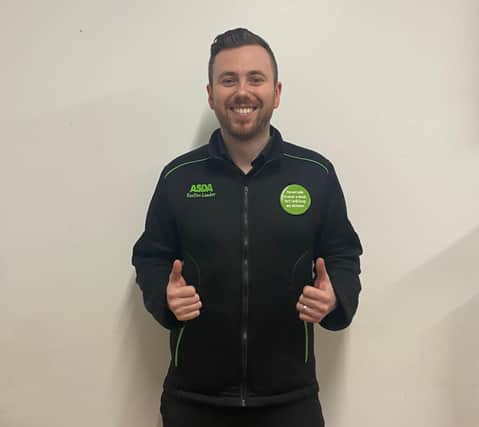 When Shaun discovered the lady was unwell, he stopped everything to tend to her immediately. He comforted the lady, gave her a glass of water and a chair to sit on and chatted with her until she felt better.
Once Shaun was sure that the customer was feeling ok again, he helped her into a wheelchair and took her home, made sure she was settled and brought her groceries in.
Shauna Frye, Fresh Section Leader at Asda Barrhead explained: "I could see the customer was distressed and panicked, so I stopped what I was doing to assist her. We had a little chat to make sure she was feeling ok again. She was relieved that I was there to help her home and get her groceries in."
"I am delighted to have been nominated as a service hero, but I was just doing my job – I would hate for one of our regular customers to have an unpleasant experience in store and just want to make sure everyone is looked after."
Asda Barrhead's General Store Manager, Colette McCloskey praised Shaun: "Shaun is such a valued member of our team - we are extremely lucky to have someone like him who always goes above and beyond for our customers."
"He is warm, friendly and will always go the extra mile for someone who needs help. Well done Shaun for putting our customers first as always."