Pilot Officer Alexander Dick from Carluke undertook missions as part of the Photographic Reconnaissance Unit (PRU) during World War Two.
The PRU was formed on September 24, 1939; throughout the war it operated clandestine photographic reconnaissance operations across the world, capturing more than 26 million images of enemy operations.
Due to the clandestine nature of operations, pilots flew solo, unarmed and unarmoured and the death rate was nearly 50 per cent.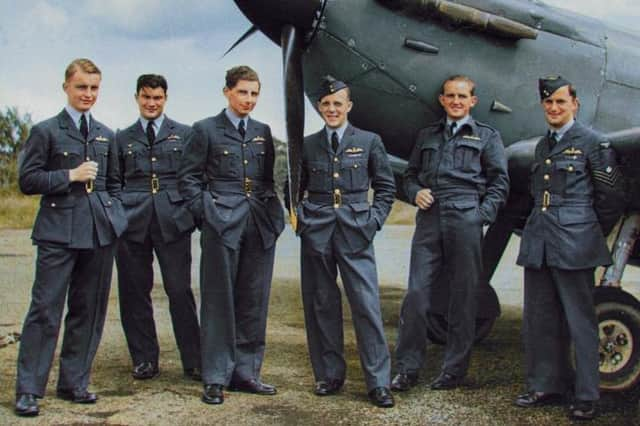 Pilot Officer Dick was born in Carluke and trained as a reconnaissance pilot, serving with 681 and 684 Photographic Reconnaissance Squadrons based in the Far East.
Incredibly, he survived the war but little else is known of his service or personal life thereafter. It is a mystery Gazette readers are being asked to help solve.
Despite having one of the lowest survival rates of the war – life expectancy was around two and a half months – there is no national memorial to the 1505 heroic men who served.
The 40-year-old is an aircraft engineer by trade, who owns and runs a number of aviation engineering companies down south.
His spare time is dedicated to researching the subject he loves and, in 2016, two years prior to the RAF's centenary, he turned his attention to telling its story.
However, Tony needed a hook to hang it on – the Spitfire came to mind as it's one of the very few aeroplanes people can readily identify.
From that he discovered a story about Sandy Gunn, a PRU pilot from Auchterarder who was shot down over Norway and taken prisoner. He escaped the camp in Poland, the story being told in the war movie The Great Escape, but was sadly one of 50 prisoners later killed by the Gestapo.
Tony was able to trace Sandy's Spitfire – the AA810 – on a mountainside in Norway and in 2018 recovered it piece by piece; it will be restored to its full glory next year.
That story saw Tony's phone explode with relatives who were eager to share stories about their loved ones PRU missions. Tony had not only found the hook to celebrate the RAF's 100th – he had stumbled on a project which he's still working on today.
He said: "The PRU was such a clandestine unit not even the RAF knew how many pilots there were. I went through all the records and diaries and found 1505 men who flew missions – almost 50 per cent of whom died.
"These young men sent 26 million pictures back home which were analysed by 700 women in houses all over Oxfordshire and, within hours, that information was in the hands of Winston Churchill. Yet these men are not recognised anywhere – that's something we're hoping to rectify."
As well as compiling histories for the 1505 men, Tony's Spitfire AA810 Project is also raising funds to build a monument in their honour in London, with funding from 23 Commonwealth countries the men called home.
The Spitfire AA810 Project is being supported by Lanark and Hamilton East MP Angela Crawley.
She said: "Alexander Dick served admirably under exceptionally difficult conditions.
"I look forward to working with the Spitfire AA810 Project to establish this memorial and paying my respects there once it is completed."
Tony would love to hear from any reader who has information about Alexander Dick's life following the war. Email [email protected] For more details about the project and memorial, visit www.spitfireaa810.co.uk.