Ciara McCarthy, 18, has been a battler since she was born when her parents were told she had congenital CMV (cytomegalovirus), a condition which often leaves babies with many health issues, and there was a 95 per cent chance of permanent disability.
She spent her first eight weeks of life in an incubator in the Princess Royal Hospital in Glasgow, and was first diagnosed with cerebral palsy at nine months old.
But the Lennoxtown teen has never let anything hold her back and she is now studying for an HNC in social sciences at City of Glasgow College.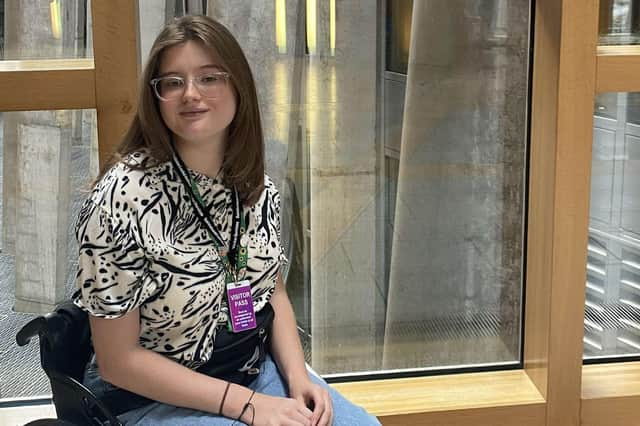 Cerebral palsy (CP) is the most common childhood disability, and about one in 500 births result in a CP diagnosis. But campaigners, including Ciara, find that most people don't know much about the condition. She is sharing her story on social media to highlight that cerebral palsy comes in different forms and to promote inclusion.
She is already a disability activist and has spoken publicly about the need to raise more awareness about disability, including at recent SNP and Labour Party conferences.
Working alongside charity Cerebral Palsy Scotland, Ciara is one of those in the spotlight to show people what it's like to live with a disability.
She said: "I want to raise more awareness of cerebral palsy because I believe that if people have a greater understanding of cerebral palsy, that will lead to greater inclusion and tolerance. When I was in high school, I did experience bullying and name-calling because I'm disabled. Things like that are a direct result of there being a lack of education and awareness.
"Now, day-to-day, I try to combat that lack of awareness by being open and upfront about my disability.
"I want people to be more aware that cerebral palsy comes in different forms and that there's no 'one way' to have cerebral palsy. I also wish people knew that people with cerebral palsy can have additional disabilities, like autism and hearing loss.
"People with cerebral palsy are smart and capable. We may need help but that doesn't mean we're less worthy of respect. I want people to know that it's OK to be disabled, and that we should treat all people with respect – disabled and non-disabled – in exactly the same way."
Throughout this month, Cerebral Palsy Scotland are sharing a host of blogs, videos, photos and articles that have been produced by a team of volunteer content creators who all have lived experience of cerebral palsy.
Isla Campbell Lupton, head of fundraising and communications at the charity, said: "Cerebral palsy awareness month is all about raising awareness of a condition that, while quite common, is still very misunderstood.
"Across March, we have been working with a team of content creators with lived experience of cerebral palsy to raise their voices, and shine a spotlight on what they want people to know about their day-to-day lives.
"Cerebral Palsy Scotland works every day to realise the potential of people with cerebral palsy. We hope that by working alongside the cerebral palsy community and raising awareness we can challenge misconceptions of cerebral palsy and help people across Scotland to understand more about the condition."