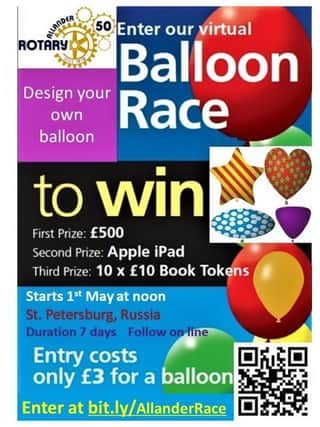 This time, the club is joining an innovative virtual balloon race, and inviting residents in Milngavie and Bearsden (and further afield if they choose!) to buy a balloon for the May Day race from St Petersburg.
There is also the added bonus for local entrants of winning a £50 cash prize – courtesy of Allander Rotary.
The race uses real time weather conditions, which will affect how each balloon flies – and to make it even more exciting, you can customise your balloon to give it the best chance of winning.
Club President Lynne Gibbons said: "We're all looking forward to following our balloons as they are released in St Petersburg – and learning a wee bit about how to keep them in the air for as long as possible, in preparation.
"Some of us are wishing we'd paid a bit more attention in physics classes a long time ago!"
The prize list is extensive, and includes cash, an iPad and book tokens.
Allander Rotary will give £50 to the owner of the furthest travelled balloon from Milngavie and Bearsden. Each balloon costs just £3.
For more information, or to purchase your balloon, please contact go to : bit.ly/AllanderRace
The popular local rotary club celebrated its 50th anniversary last year with an array of virtual events. Their website also featured a review of the past five decades of activities.