It was founded to help the British Army as it did not have any decent maps of the Scottish Highlands during the Second Jacobite Uprising in 1745/1746.
At this stage, Major General William Roy, who was born near Carluke, came up with the methodology necessary to produce decent maps.
However, it was some years before a proper national survey commenced in 1797, the first map of Kent being published in 1801.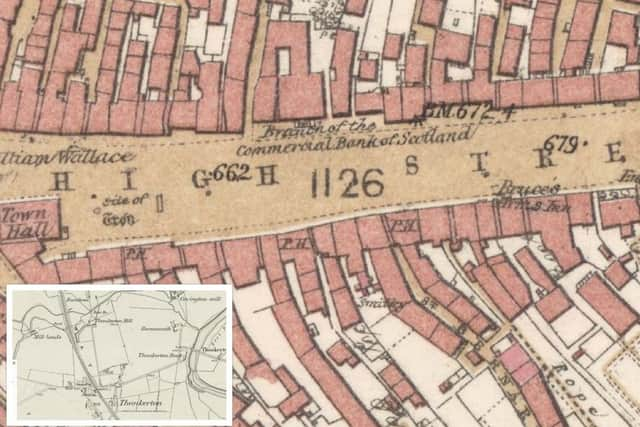 Ordnance Survey teams found their way to Clydesdale by the middle of the 19th century; railways were having an impact on the landscape but the agricultural industry had not yet declined.
This glimpse into the past gives the local historian a great deal of information in an era when photography was in its infancy.
To study Clydesdale communities, the most useful map is the 25 inch to the mile which provides an amazing amount of detail. I have selected Hope Street, Lanark, to show how different it was 160 years ago.
Looking at the map we see a few familiar details such as the Crown Tavern and Christ Church. There are however many different features such as the Bank of Glasgow and the bank manager's house next to it.
The Bank of Glasgow is now Morrison and Smiths. Next to the Crown is the Free Church which disappeared to be replaced in 1875 by St Kentigern's and then there is the United Free Church which is now the offices of Executive Benefit Services. Across the road there was Lanark Prison which lay behind the County Buildings.
The first ordnance 6inch to the mile covered everywhere and it is very useful for looking at our small communities. I have chosen Thankerton as the map shows several mills.
Once a common feature near the Clyde, there are no commercial mills left although Covington Mill has been restored to working condition. Also of note is the station which was to prove a vital lifeline for small rural communities.
To explore this further, visit The National Library of Scotland map site online.