However, not everybody was to benefit. There was poverty in the farming communities as the farm labourers were very poorly paid.
The same too can be said for many in the mining communities. Pictures taken at this period often show children without shoes.
Nevertheless big changes happened in the villages, especially those that were accessible by rail. In villages such as Abington, large houses were commonplace and the old cottages with their turf or thatched roofs disappeared.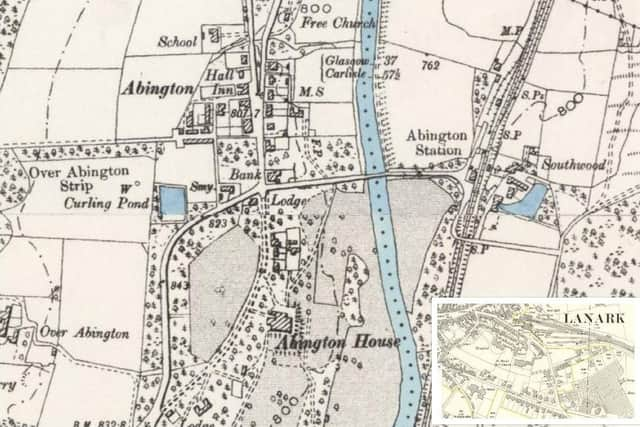 The bigger houses were constructed by the growing middle class, many of whom were able to commute to their work thanks to good rail connections. Abington was no exception as it had a decent station on the main West Coast line.
One other impact was tourism for in the latter years of Victoria's reign people were able to take holidays and that created a great deal of business in rural Clydesdale.
Many villages had golf courses or in Abington access to fishing for trout in the Clyde. The visitors either stayed in the Abington Hotel or in guest houses.
The attached map shows how the growing prosperity led to the provision of a bank which up to a few years ago provided a valuable service to the community along with the post office.
The more detailed 25inch to the mile maps show the great changes which were taking place in the larger villages and towns.
The other illustration accompanying this article shows the great developments that were taking place in Lanark such as the auction market.
From small beginnings in the 1860s the firm of Lawrie and Symington had built up an impressive market with two auction rings by World War One. By 1914, Lanark had the largest auction market in Southern Scotland which was renowned both for its sheep sales but also for the selling of the famous Clydesdale Horses.
The second edition Ordnance Survey map also showed what an important part the Catholic Church was playing in the local community. This had all happened since the 1858 act that ended discrimination against Catholics. Not only did the Catholic community build a church but its also created a hospital and a school.
Regarding schools by 1914 Lanark Grammar had moved into new premises and a substantial Primary School had been built. The present work on the site of that building will see the original Primary School / Lanark Grammar's former Science Block preserved although the later additions have been taken away.
Tourism too has had a big impact on Lanark thanks to the advent of the railway and the fact that visitors could come easily from Glasgow and Edinburgh as well as Ayrshire.
The majority of the hotels in Station Square, Lanark, accommodated visitors who were going to the Falls of Clyde for walks or to play golf.
Maps reproduced courtesy of the National Library of Scotland.