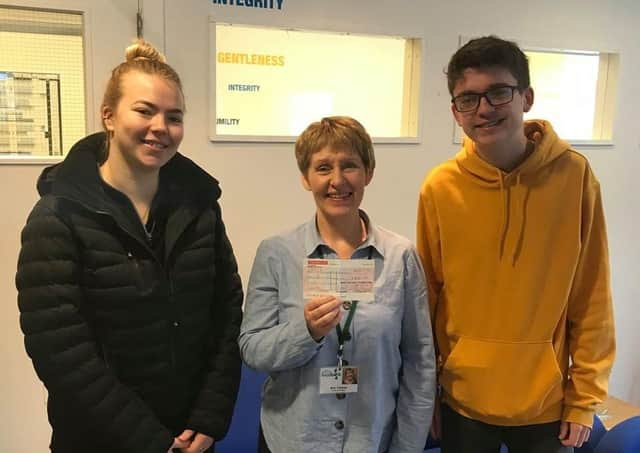 Before the lockdown, young members of Torrance Parish Church donated £3,000 to East Dunbartonshire Foodbank
There have been so many heart-warming tales of 
random acts of kindness 
carried out by people in the community.
East Dunbartonshire Foodbank has been overwhelmed at the generosity of local people.
Ann Carson at the Foodbank, said: "We have been overwhelmed with donations both of food and money.
"It is amazing to see the community coming together at this time.
"Donations from individuals range from a generous £100 worth of supermarket goods to local woman Ashley
"Last but not least many thanks to the Scottish footballer who donated a very large sum of money to the our food bank and other food banks in the Glasgow area. Your kindness and thoughtfulness is very much appreciated.
"We are very humbled and thankful to all of you at this time of uncertainty."
Local woman Ashley Hampsey has also set up a fundraising page to help East Dunbartonshire Foodbank.
You can donate at https://www.gofundme.com/f/edc-foodbank-appeal
On another high note, local piper Grant Mac
Leod brought some cheer to care home residents before last week's lockdown came into effect.
He was inundated with requests after he offered to perform some tunes outside local care homes.
Grant said: "My partner worked in a care home and we thought it would be good to do a tune for those who were isolated.
"I visited eight care homes in two days, in the East Dunbartonshire area, as well as three private homes to play happy birthday for isolated residents."
Grant is well known in the area as the "Munro Bagpiper", performing tunes from Scotland's highest mountains. Find out more about him at www.munrobagpiper.com.
A special Facebook site has also been set up – East Dunbartonshire Community Together – to reach out to people in need. In the space of days, it has amassed more than 4,000 members.
Other heart-warming tales include East Dunbartonshire paper boy Jack Kennedy, who has been going above and beyond for his customers. As well as delivering your local paper to pensioners Andy and Eustice who are self-isolating, he popped two cream eggs inside a bag with his phone number, telling them to get in touch if they needed anything.