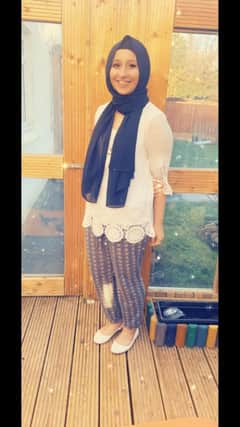 Irim's story, Wings of Sound, about a deaf girl's magical encounter with two fairies who help her hear, was unveiled as the winner in the 15-18 age group by the charity.
It has now been turned into a signed video story and made available to view on ITV's Signpost Productions website.
Wings of Sound was chosen from a raft of hopefuls by a judging panel including deaf actor Danny Murphy, host of CITV's Dare Master, and Sarah Driver, author of Once We Were Witches and the Huntress trilogy.
The Big Story Challenge was launched by the National Deaf Children's Society last year and asked deaf young people from across the UK to write and illustrate their own stories, with the chance to have their work transformed into videos by ITV Signpost Productions.
Irim said: "I was over the moon when I found out I'd won! I got so emotional watching the video. It was so crazy seeing things that I drew and wrote on screen and published for the world to see.
"One of the main issues for a deaf child is not wearing their hearing aids, so I thought this story could help children realise that hearing aids actually help them. It would be amazing if children read my story and decided to start wearing their hearing aids because of the words I wrote."
Irim's mum Tasneem added: "It was very emotional seeing Irim's story on the website. I felt so proud. Irim has always enjoyed expressing on paper the things that she can't voice in person.
"It was nice to see Irim get so passionate and involved in this whole process. It brought back a lot of memories of when Irim was young and she used to throw her aids off in the car!"
Amy New, the National Deaf Children's Society's Young Enablement Officer and organiser of the Big Story Challenge, said: "Congratulations to Irim for writing such an inventive story. The competition was a brilliant opportunity for deaf children to show how creative they can be, and Wings of Sound really stood out."