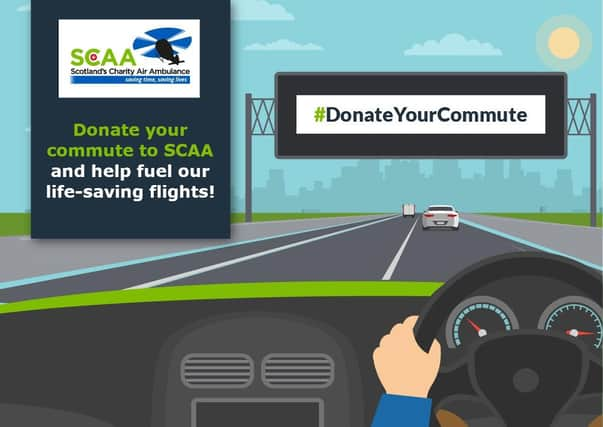 With many people working from home due to coronavirus, a significant number are no longer spending money on fuel and travel costs.
So SCAA is asking people to fuel their life-saving flights instead, via its #DonateYourCommute campaign.
Funds raised will help the charity continue to respond quickly to medical emergencies across the country.
As Scotland's only charity air ambulance, SCAA is funded by the people of Scotland, primarily through donations, fundraising, events and its own life-saving lottery.
Nick Harvey, director of fundraising and communications, said: "Due to the coronavirus pandemic, many of our fundraising events have, sadly, had to be cancelled.
"As the charity relies solely on the public's kind donations, we are hoping this campaign encourages people to pledge their support during these challenging times."
The charity is also encouraging supporters to spread the word by using #DonateYourCommute on social media.
SCAA was launched in May 2013 with the aim of flying time-critical missions to those seriously ill or injured anywhere in Scotland.
From its bases at Perth and Aberdeen Airports, SCAA has responded to more than 2400 emergencies since – from Orkney to the Borders, the Western Isles to the east coast and everywhere in between.
SCAA is funded entirely by public donations with nearly £30 million being raised in the last seven years.
It provides the country's only two charity-funded air ambulances; there are 39 charity helicopter air ambulances in England, Wales and Northern Ireland.