Don't miss the last post for letters to Santa!
Royal Mail is once again lending a helping hand to one of its most special customers, Father Christmas.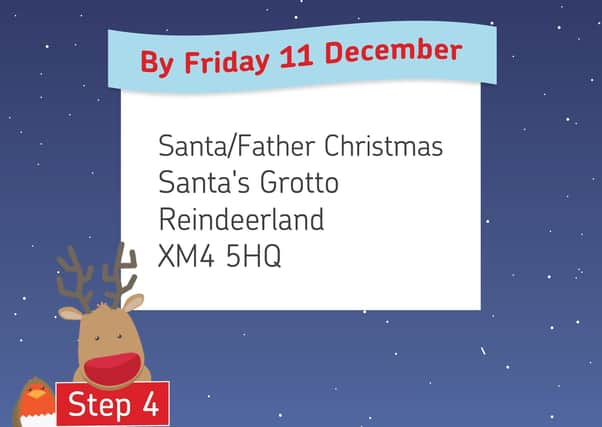 For 55 years, Royal Mail has been helping to make Christmas wishes come true by sending children's letters to the North Pole.
Now Santa's team of helpers at Royal Mail is gearing up to deliver the hundreds of thousands of letters sent to him by children from all across the UK.
Axelle Galera, Royal Mail's chief elf who ensures children's letters reach Santa at his grotto in the North Pole, said: "We are proud that for over 55 years, Santa has allowed us to help manage the hundreds of thousands of special letters he receives from boys and girls across the country."
To ensure Santa receives your letter on time, send it using a stamped envelope to Santa/Father Christmas, Santa's Grotto, Reindeerland, XM4 5HQ.
Don't forget Santa needs to know your full name and address to reply.
Because of the very busy Christmas ahead, children should post their letters no later than Friday, December 11.