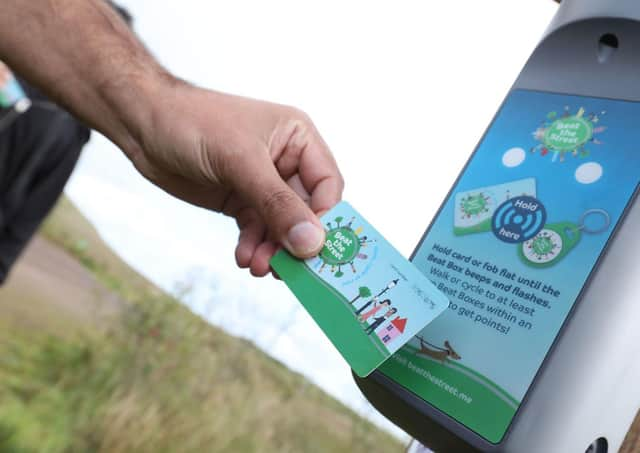 The free physical activity game has returned – this time to the whole of East Renfrewshire – and encourages players of all ages to get active and to ditch the car, and walk, scoot, wheel, cycle or run instead.
There are total and average points leaderboards for schools, community teams and charities with vouchers for the teams that travel the furthest.
Currently, Kirkhill Primary School tops the total points leaderboard; their 794 participants have scored 224,960 points while The Amazing Avengers are at the top of the average points leaderboard; their 13 players have scored 4,746 points.
Sudhir Vusikala from the Amazing Avengers team said: "It is a great experience doingBeat the Street with friends and family. We have been walking, biking and also some are jogging. This has helped all us immensely in relation to community spirit and keeping fit at the same time."
This week is Go Travel week, meaning that there are bonus points are on offer around commuting hours, so you can earn points while walking, cycling or scootering to and from school and work. Not only that, but participants can gain an extra 100 points by completing the Beat the Street survey about your health and activity levels.
Taking place until Wednesday, 11th November, Beat the Street is transforming East Renfrewshire into a real-life game with players tapping special sensors called Beat Boxes dotted across the town. Anyone can get involved, simply by picking up a free card from one of the distribution points listed on www.beatthestreet.me/eastrenfrewshire
Councillor Tony Buchanan, Leader of East Renfrewshire Council, said: "It's been great to see so many people sign up for Beat the Street and safely take part. This week, we're trying to encourage people to walk or cycle to work or school. It's often much quicker and easier to use active travel rather than trying to fit it in separately as part of your day. For those working from home, you could think about having a walk on your break too.
"Remember to follow social distancing guidelines when you're playing - don't touch the Beat Boxes and wash your hands and card when you return home."
There's still time to take part and the Beat the Street game is open to all. Simply pick up a free card from one of the distribution points listed at www.beatthestreet.me/eastrenfrewshire , register your card, join a team and get tapping!