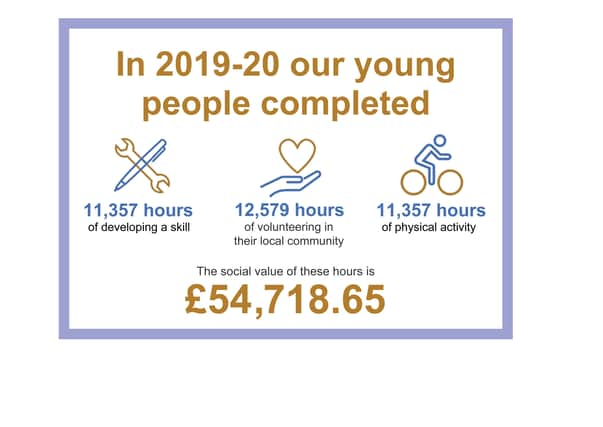 A total of 69.8 per cent of DofE participants in East Renfrewshire completed a Bronze, Silver or Gold Award in 2019-20, compared to the national average of 54.6 per cent.
In 2019-20 young people in East Renfrewshire spent 11,357 hours developing a skill, did 11,357 hours of physical activity and completed 12,579 hours of volunteering in their local community. The social value of these hours was calculated at a massive £54,718.
The DofE Awards give young people aged 14 to 25 the opportunity to learn a wide range of skills, to overcome personal challenges and to contribute to their communities. There are currently over 900 young people registered in East Renfrewshire who are working towards completing an award.
East Renfrewshire youngsters have adapted to the challenges of completing a DofE Award during Covid-19 and have altered their programme, with over 600 young people uploading evidence during the lockdown period.
Councillor Colm Merrick, Convener for Community Services and Community Safety, said: "Well done to all of our young people across East Renfrewshire who have recently completed a Duke of Edinburgh Award or are currently working towards achieving one. The Duke of Edinburgh programme is the world's leading youth achievement award so it is great to see so many young people committed to working hard to achieve this award. I am particularly impressed by how adaptable and motivated these youngsters have been by continuing to work on their programme, during what has been a challenging time for everyone."
The #DofEwithadifference Covid-19 response has seen participants across East Renfrewshire volunteering by helping siblings, neighbours, grandparents and vulnerable people in their communities with errands. The youngsters have continued physical activity by keeping fit at home, taking part in online fitness classes and using fitness apps to show proof of participation. Participants have also been developing skills by learning an instrument, cooking for the elderly, baking for family and working on skills that have been easy to adapt to a home environment.