Free veterans' guide to later life in Scotland
Age Scotland has warned that many older veterans and their families might be unaware of the extra support they are entitled to.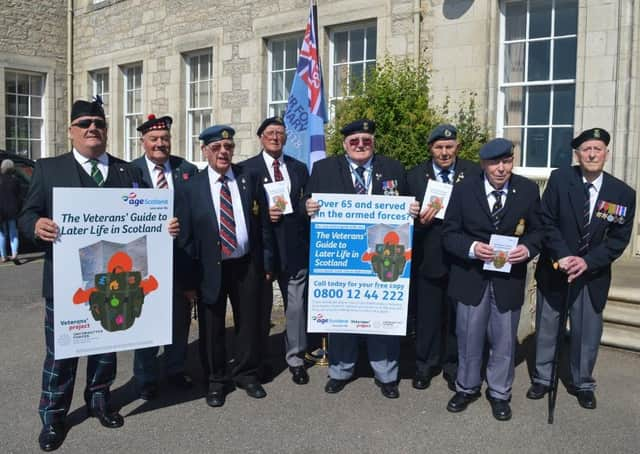 Original launch...Age Scotland first published the guide in 2018 with support from its Unforgotten Heroes partners.
Scotland has around 130,000 older military veterans and the charity believes many go without the assistance available to them, such as priority healthcare, housing and financial support.
To bridge this gap, Age Scotland has launched a revamped version of its free Veterans' Guide to Later Life in Scotland, now featuring even more support and resources aimed at older veterans.
It has been backed by the Scottish Veterans Commissioner Charlie Wallace.
First published in 2018, the guide was developed with the support of partners in Unforgotten Forces, a consortium of Armed Forces and civilian charities working together to boost the health and well-being of veterans in Scotland, aged 65 and older.
It includes information on veterans' rights when using NHS services, military pensions, benefits and housing, as well as new information about education, training and employment.
It is most relevant to veterans aged 65 plus, but much of the content will be of interest to veterans aged 50 to 64, regardless of how long ago or for how long they served.
Doug Anthoney, Age Scotland's veterans' project co-ordinator, said: "As the national charity for older people, we're well aware of the issues surrounding growing older in Scotland and have revamped this guide with the evolving needs of older military veterans in mind.
"If you are aged 65 or older, live in Scotland and have served in the Armed Forces, the guide will be most relevant to you. It doesn't matter how long ago, or for how long, you served.
"Many people we've met through our veterans' project left the armed forces with little or no support for readjusting to civilian life.
"Today, the military is more proactive in supporting that transition but older veterans, it seems, were left to it.
"Our guide aims to ensure veterans have a better experience when making the transition to later life."
Charlie Wallace, the Scottish Veterans Commissioner, said: "Huge numbers of older military veterans in Scotland may be unaware of the extra help available to them. This updated guide brings this all together and is a valuable source of information, advice and support.
"Whether someone served for one day or 30 years, we are indebted to them and must ensure that every single veteran has access to the assistance they are entitled to."