Help our heroes with a donation to the Scottish Poppy Appeal
It has been a far from normal year, with the Covid-19 pandemic affecting communities across the globe.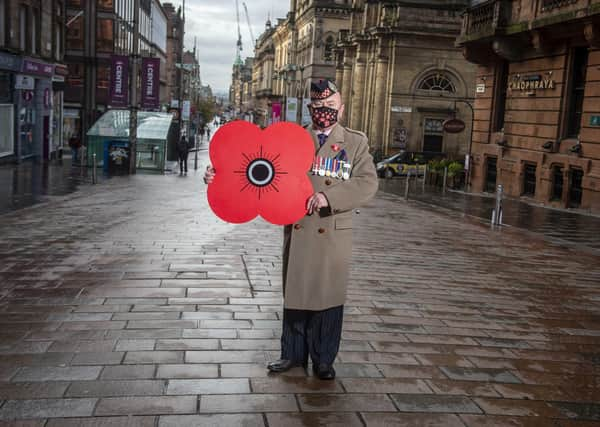 But in the midst of the madness, charities have been as busy as ever – helping people who have been adversely affected.
Poppyscotland, like many other charities, has heavily relied on digital technology to help our armed forces community – and get its message out to the public.
Normally thousands of loyal volunteers would be on the streets raising funds for the Scottish Poppy Appeal but it has once again turned to the digital world for help.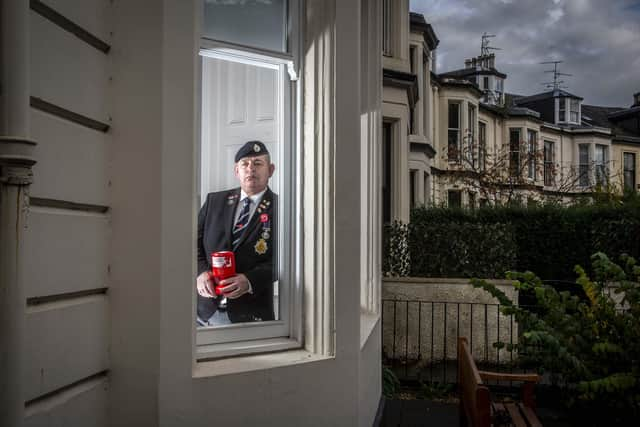 It is Poppyscotland's biggest annual fundraiser, last year bringing in £2.4 million to help veterans and their families.
This year, the appeal is facing an unprecedent crisis – with thousands of volunteers forced to stay at home amidst the pandemic and footfall in all of our high streets radically reduced.
The hard-working team at Poppyscotland have pulled out all the stops, however, to make sure the annual appeal, which has been in place for 99 years to remember those who have lost their lives in conflict, does not fall flat.
Gordon Michie, the charity's head of fundraising, hopes the digital campaign will help, in some small way, to fill the shortfall.
He said: "There is no other way to put it – we are in a state of emergency.
"Usually, we'd see thousands of volunteers out distributing poppies and encouraging donations for what is normally Scotland's largest annual street collection.
"Unfortunately, this year we are not going to see anything like the typical level of street donations.
"This is one of the most crucial and challenging years in the long history of the Poppy Appeal.
"The world may have stopped but our support for those most vulnerable in our community cannot.
"The public have always been incredibly generous with their support.
"We are asking that this year, they do not forget us and continue to donate through online channels.
"We need their support now, more than we ever have – every poppy counts."
It usually takes 10,000 volunteers, many of whom are veterans, to distribute poppies in our communities.
But with many of them shielding, local lockdowns and emptier streets, this is far from a usual year.
In a bid to offset the impact, Poppyscotland is encouraging people to go online to show their support.
Among a number of new digital innovations introduced for the 2020 appeal is a virtual field of remembrance, where members of the public can plant and sow a virtual poppy, leave a message of support and offer a donation.
The public is also being encouraged to donate, download and display a poppy in the window of their homes, showing their support for our heroes much like they did for the NHS.
Gordon said: "We've created a downloadable poppy to print and display and a blank poppy which children can colour in.
"We're hoping they will start to pop up in people's windows, much like the rainbows for the NHS – with people donating to the cause when they print it off.
"We've also created a new range of merchandise, with Scottish artist Craig Campbell, on the theme of Scotland Remembers.
"It depicts a spitfire, the Forth Bridge, Vera Lynn, Churchill, a piper and our VE Day learning pack.
"This design has been printed on a range of merchandise which people can buy, including a gin from Selkirk Distillers."
While there may not be a huge presence on the streets this year, poppies will still be available in every community across the country.
"Four million poppies were distributed to our 450 area co-ordinators across the country in September," said Gordon. "We knew then that we'd need to safeguard them from Covid-19 so we invested in new technology.
"For the first time ever, the 10,000 boxes of poppies they distribute in local shops and pubs have QR codes.
"That means people who don't have money in their pockets to give to the campaign can do so easily on their smartphones.
"Our amazing area organisers have also set up nearly 200 Justgiving pages for public donations."
Every penny raised from the poppy campaign helps veterans across Scotland who need help, regardless of the coronavirus.
For that reason Gordon hopes people will dig deep.
He added: "We raised £2.4 million last year – I will be a very happy man if we surpass £2 million this year.
"Many of our veterans need help, now more than ever. The pandemic has taken its toll on all of us and our veterans have certainly not been immune to it.
"So we hope generous Scots will take the time to remember our heroes and help veterans who have given so much for their country."
Thank you to poppy making veterans
For the 38 hard-working veterans who make the four million poppies and 20,000 wreaths for the Scottish campaign, life has been far from normal this year too.
The Lady Haig Poppy Factory is currently being refurbished so they initially worked from their temporary home at Redford Barracks in Edinburgh.
However, when lockdown began, the veterans had to turn their homes into work stations. But they pulled out all the stops to make sure they fulfilled the order books as normal.
Praising their efforts, Gordon said: "With typical military grit, determination and Bulldog spirit, our veterans worked from home to make poppies this year and delivered, as we always expected they would.
"They returned to the factory at the Barracks as soon as they were allowed to and their attitude throughout was: let's get this done.
"Many of our fantastic veterans were shielding but they worked at home to make sure we could meet our targets.
"I would like to thank each and every one of them for their tremendous effort, as ever."