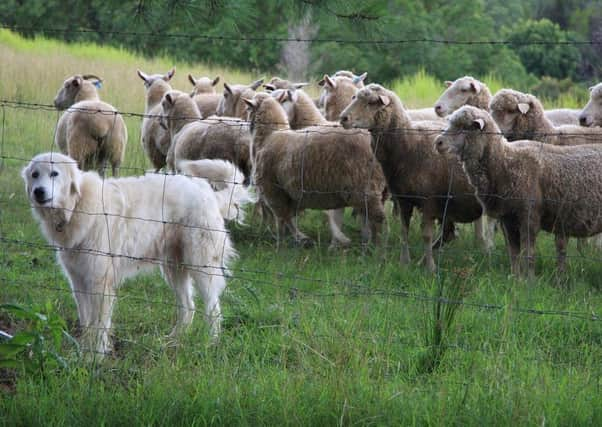 The National Farmers' Union (NFU) Scotland made the plea after farmers reported a worrying increase in attacks.
Some sheep have been killed and others injured at a time when ewes and their new-born lambs are particularly vulnerable.
Gemma Copper, NFU Scotland's head of policy, said: "Those who are accessing the countryside with dogs need to be aware that there is still livestock in the fields and that their dog can and will attack sheep and cows.
"Avoid fields with livestock where possible, keep your dog under control and please remember to pick up after them.
"Dog attacks can lead to serious injury and death to livestock; even being chased by a dog can lead to sheep aborting their lambs.
"As a farmer or crofter this is a horrendous situation to find and is avoidable if dog owners act responsibly."
NFU Mutual's claims figures show that livestock worth £1.2 million was attacked by dogs last year in the UK.
Rebecca Davidson, NFU Mutual rural affairs specialist, said: "These horrific attacks have left a trail of dead and seriously-injured sheep and new-born lambs so we are urging dog walkers to keep their pets on the lead at all times when in the countryside.
"Walking dogs on a lead also ensures people can safely stay two metres apart.
"During the coronavirus, the threat of attacks is adding to farmers' and crofters' anxiety when they are already under immense pressure.
"Some farming areas are experiencing increased numbers of walkers with dogs, with farmers having to spend additional time patrolling flocks to prevent attacks. This is hindering them from getting on with the vital task of producing food for the nation."
Top tips for exercising your dog
NFU Mutual has created a coronavirus guide for exercise on farmland footpaths.
Maintain social distancing when out in the countryside and consider others, including farmers and their families;
Avoid footpaths which go through farmyards or close to farmhouses;
Keep to footpaths, leave gates as you find them and don't block gateways;
Always keep dogs on the lead when walking them in rural areas where livestock are kept;
Always clear up after your dog – their mess can spread disease;
Be aware that even small lap dogs can attack and kill farm animals;
Report attacks by dogs and sightings of dogs roaming the countryside to local farmers or the police;
Don't let dogs loose in gardens adjoining livestock fields – many attacks are caused by dogs which escape and attack sheep grazing nearby.