Inspirational Giffnock volunteer wins Diabetes Scotland award
A voluntary group leader from Giffnock who has dedicated her time and energy to support the diabetes community has been honoured by charity Diabetes Scotland.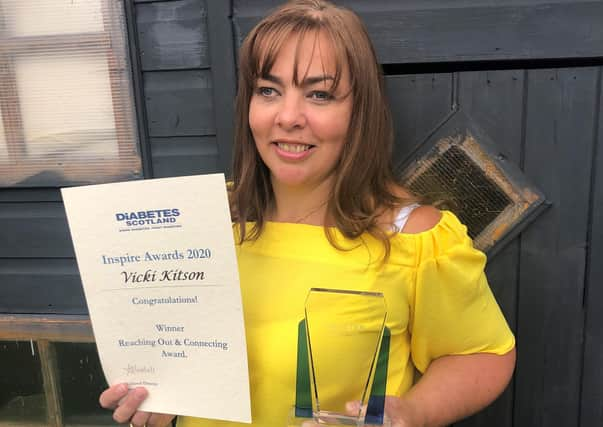 Vicki Kitson won the Diabetes Scotland 'Reaching Out & Connecting' Inspire Award which was presented in a virtual ceremony attended by people from all over Scotland.
The awards are held each year to recognise the valuable contribution of volunteers who go above and beyond for people living with diabetes.
Vicki is the chair of the Diabetes Scotland Glasgow Family Group which supports families with children who are living with type 1 diabetes.
She first joined the group when her son Jacob, 15, was diagnosed with type 1 diabetes and she has never looked back. Using the benefit of her own experience she is on hand to support parents all over Glasgow and the surrounding areas, whether their child is newly diagnosed or has been living with the condition for several years.
Vicki explained how her own family's experience of diabetes motivated her to become a volunteer.
She said: "When my son, Jacob, was diagnosed with type 1 diabetes at age six, my whole life changed. No matter how well-meaning friends and family are, and I am blessed to have a lot, they just do not get it. It's impossible to understand the constant worry and all the additional things you have to think about every day unless you are living it. For example, a snack is no longer just a snack but a mathematical calculation, including ratios, sensitivity, and some good old guesstimating to ensure that Jacob's blood sugars don't go too high or low.
"I was pointed in the direction of the Glasgow Family Group by the paediatric team, where I met lovely, helpful families who knew exactly what I was going through.
They understood the anxiety surrounding school and play dates, carb counting and always carrying enough medical paraphernalia to merit additional baggage!
"I was introduced to a lovely woman who had been running the group for several years.
She continued to give up a lot of her time to support all of us even though her own son was grown up and no longer attending the group activities.
"I really wanted to help, so I got more involved in helping to organise activities and events and eventually I took over as chair of the group in 2015."
In addition to organising regular group meetings and drop-in sessions, Vicki organises regular fun events for the children including trampolining, trips to the pantomime and an annual fundraising cycle around the Isle of Cumbrae. Vicki also built up a partnership with Scotland Sports Futures to organise an annual basketball tournament and supports young group members to obtain Saltire Awards.
Vicki is passionately involved in campaigning for a refresh of the children and young people's diabetes service in Glasgow to allow people with type 1 diabetes to access the same service from ages 0-25. This will reduce the risk of young people disengaging from clinics in their late teens and empower them to manage their diabetes well.
Vicki added: "I can honestly say I've loved every minute of volunteering with the Glasgow Family Group! I have met so many wonderful people and forged friendships all across Scotland. I have been in a position to help families at the beginning of their own diabetes journeys and my family and I have shared many exciting experiences which we may not have thought of doing on our own.
"I feel very privileged to be in a position to offer support to families and I am extremely grateful to have been nominated for an award, let alone to win one!"
Angela Mitchell, National Director of Diabetes Scotland, said: "We are delighted to present Vicki with an Inspire Award. As the chair of one of our largest family groups, she is kept very busy. She goes above and beyond to ensure that families of children with diabetes in the Glasgow area and beyond are supported. We very much appreciate her support in our campaign work, particularly in our calls for a refreshed paediatric diabetes service in Glasgow which would cater for children and young adults up to the age of 25.
"Our volunteers are out there working hard in the community day in and day out. Our much-needed work wouldn't be possible without their incredible support and I would like to extend my sincere thanks to all of our volunteers who make an enormous positive difference to the lives of people living with diabetes.
Diabetes is a condition where there is too much glucose in the blood because the body cannot use it properly. If not managed well, both type 1 and type 2diabetes can lead to devastating complications. With the right treatment, knowledge and support people living with diabetes can lead a long, full and healthy life.
To find out more about becoming a volunteer for Diabetes Scotland, or to join a local group, email [email protected].