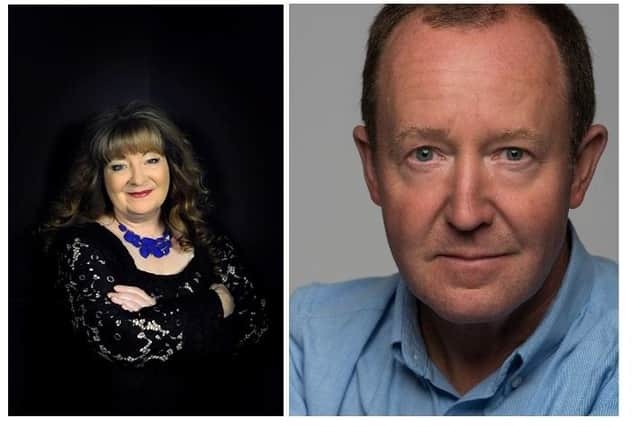 Multi-award winning comedienne Janey Godley will feature 'In Conversation with' BBC journalist Graham Spiers live from the Giffnock theatre on Saturday 17 April, where she will discuss her Glasgow upbringing, exceptional talent and trace her career to date.
Janey has built a highly successful comedic career with regular TV, radio and social media appearances and released her autobiography 'Handstands in the Dark, in 2006 which gives insight into her early life.
Scottish actor Jonathan Watson will also be interviewed by Graham on stage, on Saturday 22 May.
The Two Doors Down and Only an Excuse star Jonathan has four decades of TV, film and theatre credits to his name, from Filth to Local Hero to Rab C Nesbitt, not forgetting Frank McAvennie.
BBC journalist Graham Spiers said: "I have had the pleasure of doing these shows with both Janey and Jonathan at the Edinburgh Fringe. I can guarantee everyone a great evening!"
The events are being brought to the stage to entertain audiences by the team at Eastwood Park Theatre, part of East Renfrewshire Culture and Leisure, in conjunction with Glasgow-based production company Fair Pley.
The theatre was awarded a grant from the Scottish Government through Creative Scotland and the funding is being used to bring entertainment to be enjoyed virtually while supporting local artists and organisations and plan for a sustainable return to the theatre.
Anthony McReavy from East Renfrewshire Culture and Leisure said: "It's our pleasure to welcome two much-loved Scottish stars, Janey Godley and Jonathan Watson, to our stage to feature In Conversation with renowned journalist Graham Spiers.
"Audiences are sure to be captivated by their humour, unique stories and the insight into their hugely successful careers. We're pleased to continue to offer virtual theatre events that people can enjoy from home, thanks to funding from Creative Scotland."
Events are recommended for ages 16+. Tickets are priced at £15 per household for each event and are available to buy now from: www.eastwoodparktheatre.co.uk.