Janey Godley has shared a cancer update after revealing she is currently undergoing weekly chemotherapy.
Despite her ongoing health issue, Janey shared a positive social media update from her Not Dead Yet tour which showed her smiling on stage.
Janey, who is mostly known for her comedy parody videos, has continued with her stand-up tour just months after sharing the news of her cancer returning.
Taking to Twitter on Monday (20 February) evening, the comedian said: "My haemoglobin is back up and holding it's own despite weekly chemo!"
Janey was initially diagnosed with stage three ovarian cancer back in November 2021 and had a full hysterectomy in January 2022 to treat the disease.
In June 2022 she announced that she was cancer-free in an emotional video where she told fans: "There's no evidence of disease."
Despite her positive news, just months later in December of last year, Janey shared that she would be resuming her cancer treatment.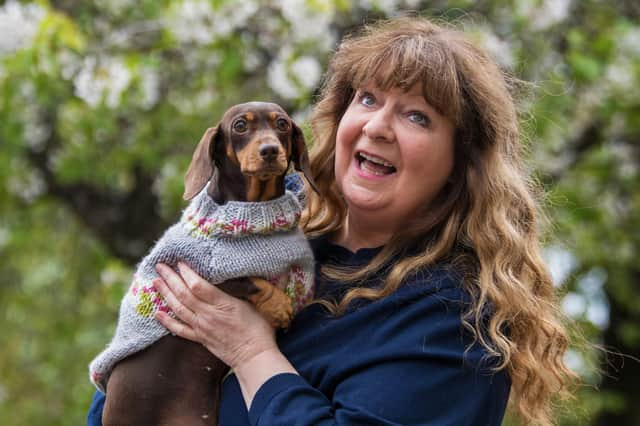 In a video on her Twitter, the stand-up comedian said: "My recent scan and my blood tests showed that my cancer marker went up, and there's still a bit of disease in my abdomen."
"So, I want you all to know that I'll be going through some more chemotherapy."
At the time she shared that she feared she had PTSD after finding out she had cancer in the middle of 'being cancelled'.
The comedian shared that she had reached out to suicide prevention charity Samaritans after fallout from tweets she had posted in 2011.
She also defended the right for people to say that they hoped she would die of her cancer, adding: "I went from being cancelled to cancer in six weeks - from trying to lose my life to fighting for my life.
"I'd been saying 'I hope I die'. Now I was saying 'f***, am I going to die? I want to live'. I still can't step back and look at it all.
"It's like PTSD. It frightens me thinking about it. I didn't realise that the reason I wasn't eating wasn't the cancellation but because I'd a massive tumour."
Despite the diagnosis, the comedian said she was still "determined to get back on stage", and that her 2023 tour would still be going ahead.
Janey shared that she was "looking forward" to her tour, saying: "It might be the last time you see me live on stage".
The stand-up comedian is performing her tour across Scotland in February and March, with the tour concluding with three nights of performances at the Leicester Square Theatre.
The Not Dead Yet tour has seen lots of praise on social media, with Janey retweeting and sharing the praise on her social media.
One user wrote: "Fantastic night seeing the fantastic @JaneyGodley with that hilarious @ashleystorrie yesterday @thebeaconarts. My face was genuinely aching!" with Janey responding "Loving this tour".