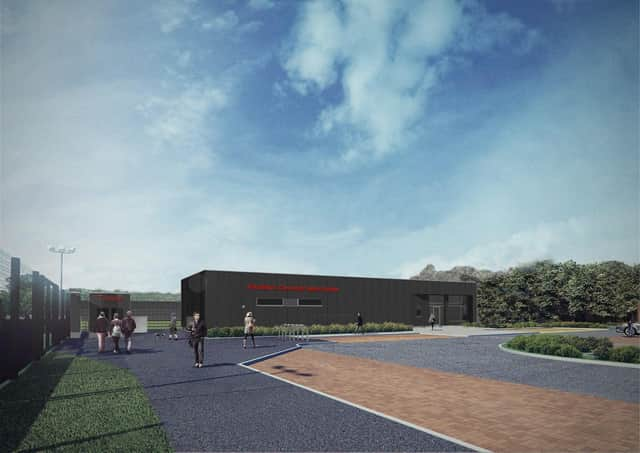 Artist's impression of the new Kirkintilloch Sports Complex
The Council is captaining a team of partners to create KirkintillochCommunity Sports Complex on a derelict brownfield site to the west of Park Burn, in the Southbank area of the town.
Robertson Construction has been contracted to deliver the new asset, which will offer high-quality sporting facilities – including community access.
Kirkintilloch Community Sports Complex is due for completion this autumn and will include:
A full-size, artificial 3G sports pitch with floodlighting, which can divide into three seven-a-side pitches.Main Stand and VIP Stand spectator seating (total of 302 seats),including integrated viewing facilities for people with disabilities.
Pavilion building, including changing facilities, reception area withsmall café/bar space, kitchen and toilets. Car parking, including spaces for people with disabilities, electric car charging points and bike stands.
The Council is inviting offers to lease the facility (on a full repairingand insuring basis) for an initial 25-year period. The lessee will berequired to provide school and community access. All offers must beaccompanied by a business plan.
Councillor Gordan Low, Leader of the Council, said: "I'm pleased to confirm work is progressing to deliver the new Kirkintilloch Community Sports Complex. The Council is now in a position to invite offers to lease the facility on a long-term basis.
"The complex will support our Local Outcomes Improvement Plan – specifically health – helping to provide sporting opportunities to localschools, and community organisations and groups."