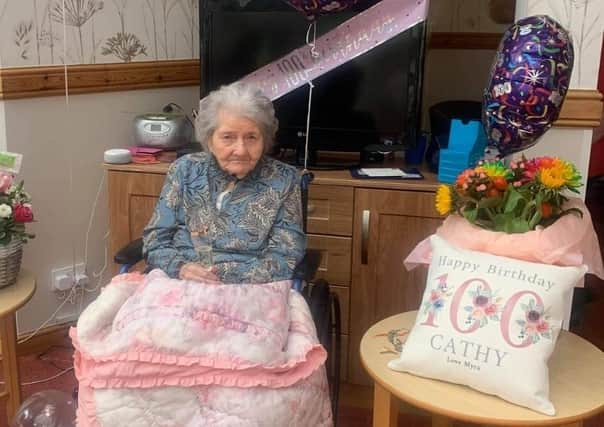 Cathy Davidson marked her 100th birthday in style, donning a tiara and new dress to lead the residents of Whitehill lodge in Lennoxtoun in rousing renditions of her favourite Scottish and Irish songs.
The care home staff arranged a surprise party, and decked the home with balloons and flowers to mark the special day.
Residents presented Cathy with handmade cards which they had spent weeks perfecting. She was as thrilled with the cards her friends made as she was with her birthday card from the Queen.
Due to covid restrictions, Cathy's family were unable to attend her party. Her children John, Jim, Charlotte and Raymond, who are aged between 78 and 63 said in a statement: "Our Mum felt like the Queen for the day. She has never been made such a fuss of, she loved every minute.
"She had her hair and nails done and looked fantastic, as she entertained her friends with her singing and joking.
"We were obviously really disappointed not to be able to celebrate the way we would have wanted but we are really grateful to the staff for pulling out all the stops to make her 100th birthday really special despite the current circumstances."
Cathy was born in Torrance in 1920, the youngest of 10 children and is the second member of the family to celebrate the landmark birthday. Her late sister Sarah celebrated her 100th in 2015.
Cathy married her childhood sweetheart Tommy in 1939 and the couple had five children, whom Cathy doted on. Her son Tom sadly died in 2017.
Her family say Cathy's long life is down to not smoking or drinking, her zest for life and love of her large family of four remaining children, 13 grandchildren and 20 great-grandchildren.