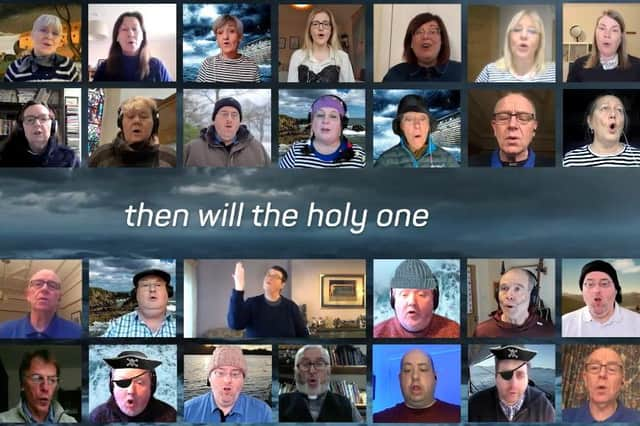 For Cumbernauld Old Parish Church minister Elspeth McKay has joined an online choir of her counterparts which has embraced a version of the same song using an early seafarer as inspiration – Noah!
And and the results are now available in a stirring singalong video which have appeared on social media platform Tik Tok!
Reverend McKay explained: 'I got involved through a Ministers discussion group on Facebook.
"Reverend Peter Johnston of Ferryhill Parish Church in Aberdeen posted that he would like people to record themselves on video singing the shanty which he had written the words for and then send the file to him and he would put them all together and come up with the final finished song.
" He and the organist at Ferryhill had prepared audio files we could sing along to, to make sure we were all singing in time and in tune!
"I thought that I would have a go as we have been putting music together at Cumbernauld Old for our online services since the beginning of the first lockdown and I was getting used to singing on video.
"The finished product is fantastic -I can't stop listening to it
"It is wonderful for people from so many different churches to have a chance to sing together.'
Mr Johnston added: "With sea shanties becoming all of the rage over the last few weeks, I was on leave and my daughter had been listening to loads at the moment. It then popped into my mind to write a sea shanty for the story of Noah. We put the focus on the end of the story - the Covenant sealed by the rainbow, which is the positive part of what is quite a dark story.
" I was wanting to tell the story in a way that didn't shy away from the darker elements of it but gives us a hopeful resolution to it. If it helps people to get into the story, that's great."
You can tune into the video at the Ferryhill Parish Church website.