Milan Gill, who has been clapping for the NHS every Thursday evening, decided to take on his challenge after his school, The Glasgow Academy, suggested senior school pupils should try running 5K for to raise money for NHS Charities Together.
Although he's only six, and in P2, Milan thought this was a good idea – and he's gone for it in a big way!
He's now on the last day of his challenge which will see him cover a total distance of 70 kilometres.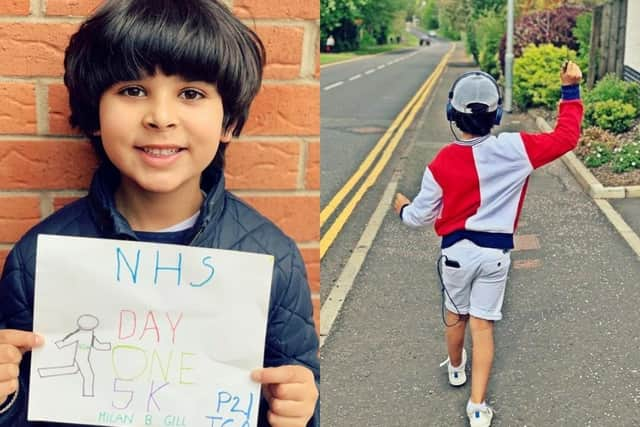 Milan's mum Harin Bassi Gill said he initially couldn't believe that if he walked for around an hour a day people would donate to NHS.
"He has been watching the news and following the stories about the struggles to provide NHS frontline staff with masks and other protective equipment," said Harin. "Milan has been talking about how the NHS are his heroes for going to work even though they could get sick.
"He asked to do a trial walk before he committed and we did. At the end of his walk he said that if people would be willing to give money to NHS for masks and medicine, he would do it for 14 days."
So Milan started his challenge on April 30 and set up a JustGiving page.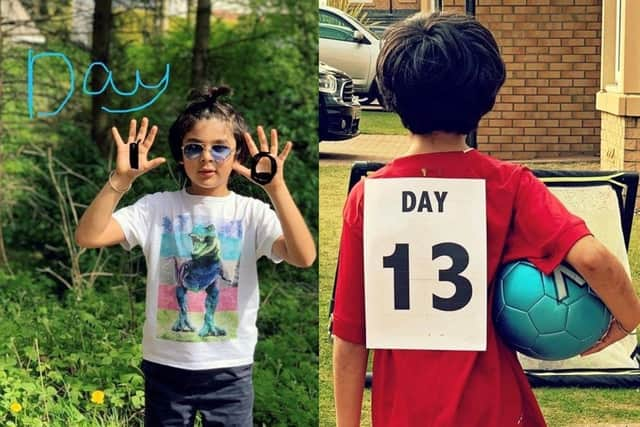 He recorded a personal video encouraging everyone to support the NHS, and has been writing a daily blog on his JustGiving page and posting pictures, so everyone could see he was making an effort.
Harin added: "He has been very careful to stay two metres away from people on his walks and has been greeting everyone he sees on his journey.
"His posts have been encouraging neighbours, friends, family and teachers to donate, and he's had donations from all over the UK. Even his three-year-old brother donated 50p from his piggby bank!
"He wanted to do his part to help his NHS heroes. He has enjoyed his daily walks, after a day of home schooling, in particular learning and exploring about his local area, such as St Cadoc's Wood, Rouken Glen Park waterfall and all the different street names.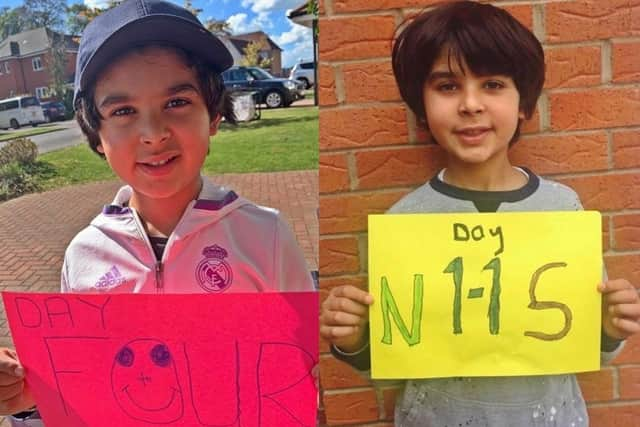 "We have been measuring the distance on my watch to ensure he hits 5K as he has been choosing different routes. He has been asking how to keep fit and what food to eat to ensure he is healthy, and has been picking high protein meals with lots of veg and his outlook has been very positive during the walks."
Kind-hearted Milan has even been sending personalised video messages to his sponsors now that he has passed the £1500, and he's hoping he might still attract a few more supporters willing to donate to help his NHS heroes.