Noble effort in first world war by John, a true Clydesdale hero
With Remembrance services being held across Clydesdale this weekend, it's an ideal time to share the story of one of Scotland's heroes John Ian Noble.
Watch more of our videos on Shots! 
and live on Freeview channel 276
Visit Shots! now
I found out about him through his grandson Ian Noble, who shared his incredible story with me.
John Noble was typical of many of the Scots who volunteered to join the army in World War One, billed as the war to end all wars which was waged from 1914 to 1918.
John was born in Carnwath on March 3, 1890, but he moved to Lanark at the age of 11 where he stayed for the rest of his life.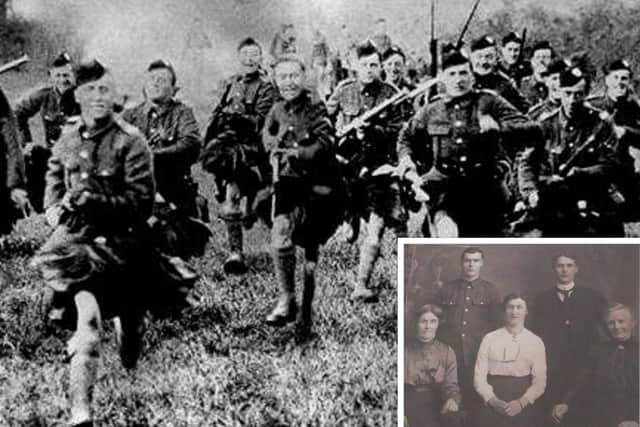 His first job was as a miner and he could have stayed in the mines for the duration, as mining was regarded as a reserved occupation.
Coal was a vital commodity to keep the war effort going, whether in trains or ships or just to keep the wheels of industry moving.
However, John was instead enlisted into the Royal Scots Fusiliers at the age of 24 – not long after the birth of his daughter Marion in 1914.
Initially the unit that he was assigned to was the 7th Service Battalion Royal Scots. This battalion was not immediately dispatched to the front in 1914 as the general view of the generals was that the war would be over by Christmas. As we now know, that was hopelessly optimistic.
The 7th battalion was sent to Ayr first of all then to Basingstoke and, in October 1915, was sent to Bourlogne and on to Loos.
Little did the soldiers know what awaited them at Loos. They were marched into battle without any experience of trench warfare or a gradual introduction to warfare on the Western Front. However, the British Generals did not bother about ensuring their troops had proper training.
So it was that John Noble and his fellow soldiers were thrown right in at the deep end into the final couple of days of the battle of Loos which had started in late September.
General Kitchener decided to use poison gas at Loos; this was chlorine gas which was used against the advice of those in charge of it. In the event it disabled some of the Germans but blew back on the British troops and our own troops came off much worse.
Another failure in the battle of Loos was landing shells on the German trenches. All in all it was a total tragedy and many Scots died in this battle which achieved nothing. The Scots in the early stages of the battle saw 8,000 casualties out of 10,000.
The battle was still raging in early October and it was then that John rescued a wounded officer, as well as leading a gun team into the correct position.
For what in many circumstances would have led to John being awarded the VC, he only got a Mention in Dispatches which entitled him to wear an oak leaf on his Service Medal ribbon.
At least he did get a promotion from Corporal to Sergeant which resulted in him earning an extra 3p a day.
The people of Lanark were more appreciative of his heroism and he ended up being a Burgess of the Royal Burgh of Lanark.
I'd like to thank Ian Noble, John's grandson, for the information which is an important addition to Lanark's story. If anyone else has stories about their families, please get in touch.